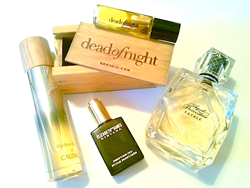 discover some new body oils, perfumes and brands to consider trying this fall/winter/holiday season
New York, New York (PRWEB) November 18, 2014
When the cool air has consumers reaching for an extra layer or scarf, they are bound to want to pile on some alluring scents as well. As much as BeautyStat loves coconut body spritzes, fall is a time to get (and feel) sexy. Some of the latest scents are being served up in unique forms such as oils and aromatic combinations that will linger on our skin way after the ball drops. Read on to discover some new body oils, perfumes and brands to consider trying this fall/winter/holiday season.
Elizabeth and James Nirvana White & Black Perfume Oil: These alcohol-free, pure perfume oils offer a novel form of fragrance application for a more intimate experience. They are a natural extension of the Elizabeth and James Nirvana fragrance line; even Mary-Kate Olsen boasts her adoration for oils and how they sink into skin and stay with the user throughout the day. The perfume oil uses a carefully concocted base of evening primrose oil and vitamin-rich safflower oil mixed with the scent's signature violet, sandalwood and vanilla for our moody fave, Nirvana Black. Apply to all pulse points as it harmonizes with your body's chemistry, or, layer it under one of your got-to Nirvana Eau de Parfums for more intensity. Available at all Sephora stores and Sephora.com.
Parfum Divin de Caudalie: Mathilde Thomas, Creator of Caudalie, along with Master Perfumer Jacques Cavallier have created Parfum Divin de Caudalie. Bottling the exact scent of the Divine Oil, users can now wear it everyday on their face and body. Notes combining Bulgarian rose absolute, Moroccan rose essence, Virginia cedar, vanilla and spicy pink pepper are adorned in a gorgeous mirrored bottle, topped with a beautiful beechwood stopper. The look of the bottle seems as though it is being infused with pure gold. Users will want to spritz this perfume all over as you dose yourself with Caudalie products… while sipping some much-needed French wine.
To see more top picks, click here: Review: Best Fragrance Perfumes Fall, Winter, Holiday 2014
********************************************************************
BeautyStat.com is an online beauty retail platform (that features makeup, skincare and haircare reviews). It has been featured in Women's Wear Daily, LA Times, New York Times, Forbes Magazine, NBC and CBS News. The strength of BeautyStat.com is its captive, engaged and influential 200,000+ community, 400+ blogger network and 40 million social network reach. BeautyStat.com works with beauty brands, retailers and PR agencies to connect them to the BeautyStat community for e-commerce, advertising and rich consumer insights.