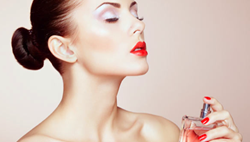 a scent is meant to linger but not become the focal point of conversation
New York, New York (PRWEB) February 27, 2014
BeautyStat.com readers are avid fragrance wearers. And based on their high usage, BeautyStat editors regularly preview major perfume launches such as those by Marc Jacobs, Chloé, Calvin Klein and Ralph Lauren.
To help readers better understand how to find their signature scent as well as providing them with the do's and don'ts to wearing perfume, BeautyStat enlisted the help of fragrance expert, Sue Phillips. Sue has had a distinguished career in the Cosmetic and Fragrance Industry, holding senior positions at Elizabeth Arden, Lancôme, Paris and Tiffany & Co. She has just opened her Tribeca atelier, The Scentsorium, this past January 2014 where she offers custom fragrance experiences.
Sue explains that a scent is meant to linger but not become the focal point of conversation. Applying too much perfume can best be avoided on certain "pulse points" where "blood flow is the strongest, the fragrance will 'rise' and envelop you by diffusing upwards," explains Sue. "Therefore, a drop of perfume should be applied from the bottom up: at the ankles, behind the knee, in-between the thighs, at the cleavage, at the inside of the wrists, inside the elbows, at the nape of the neck and behind the ears."
Sue also points out some common fragrance-wearing mistakes, like applying too much perfume behind the ears and neck, which can interfere with chemicals found in hair products. It is also important to not rub your wrists together, since the friction will damage and alter the fragrance molecules. Along with these key tips include others like, avoid spraying perfume into the air and walking through it (which can damage/stain clothes and waste money) and wearing conflicting scented lotions and deodorants.
Some of Sue's best tips come in her quick explanation of Top, Middle and Base notes of fragrances -- terms people read about, but might not know exactly what they mean: "You want something that will invigorate you to start your day. The Middle or "heart note" is what the Top then transforms into after about 30-minutes and usually has a floral theme. The Base is what the fragrance finally evaporates into, lasting the longest with creamy vanilla, sensual musk or earthy, woodsy and green mossy notes."
Find out more about how toy wear your fragrance at BeautyStat at BeautyStat.com.
BeautyStat.com is an online beauty retail platform (that features fragrance and perfume reviews). It has been featured in Women's Wear Daily, LA Times, New York Times, Forbes Magazine, NBC and CBS News. The strength of BeautyStat.com is its captive, engaged and influential 200,000+ community, 190+ blogger network and 40 million social network reach.
BeautyStat.com works with beauty brands, retailers and PR agencies to connect them to the BeautyStat community for e-commerce, advertising and rich consumer insights.