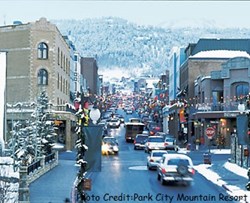 Now is the best time and possibly the last chance to book a holiday ski vacation.
(PRWEB) October 03, 2013
Ski Vacations are known to be pricey, especially when traveling over the winter holidays. During these times rates are guaranteed to be higher and availability of lodging tighter. So how does one make a holiday ski vacation affordable and enjoyable? Two words, book early.
Booking early for a ski vacation can seem like a game of chess. If one books too early, the resorts have not offered their early booking promotions. If one waits too long, then the promotions will be expired or the availability of lodging choices will be greatly diminished. After 38 years in the ski industry, Sports America Tours recommends October as the perfect month to book your holiday ski vacation. Booking in October provides balance between gaining the best value and selection of available units.
Resorts are known to sell out of lodging over peak holiday nights. Even if you are able to secure somewhere to rest your head it may not be the ideal location, bedding configuration, or worse it could be totally overpriced. Booking your accommodations early is the first step in securing your ideal holiday ski vacation.
A common need for any vacation is staying within a budget. Resorts and lodging property management companies offer early booking specials to those clients that are willing to book early. These lodging discounts are commonly as deep as 30% over the summer and early fall. For skiers this can mean the difference of being able to afford a trip at all or being able to afford the trip of their dreams within a budget.
For family holiday ski vacations with children, people should know to book ski school early. It is also known to fill up and have wait lists over the holiday periods. Many families who bring their children on holiday ski vacations put their children in ski school. Parents often take advantage of this time and ski more difficult terrain. Being unable to put kids in ski school on a trip can alter the overall experience for the entire family.
In addition to lodging and ski school, purchasing lift tickets early can save hundreds of dollars on a ski vacation. Prices are always elevated at the window the day of and often are offered at note worthy discounted rates when purchased at least two weeks prior.
In conclusion, now is the best time and possibly the last chance to book a holiday ski vacation. With resorts offering discounted lodging and a wide variety of units still available, waiting much longer could mean missing out on that special vacation over the holidays.
About Sports America:
Sports America specializes in ski vacation packages throughout western North America. Whether you're planning a ski vacation for a group of friends, a company meeting, or a family vacation, one of our vacation experts will help design your perfect package. Our special contract airfares, tour operator lift tickets, special rental car/transfer rates all save you time and money. Knowledge, excellent customer service, friendly staff, great pricing, and the highest quality ski vacations since 1975. http://www.SportsAmerica.com