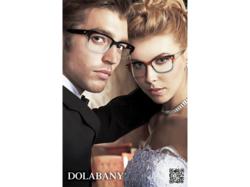 At Vision Expo West 2013, Booth #20017 will be a must-see display!
Miami, FL (PRWEB) July 10, 2013
The new booth design will allow Best Image Optical to showcase their three brands: Dolabany Eyewear, Mario Galbatti, and Plume Paris at Vision Expo West to eye care professionals in a personalized way, as well as, enhance the visitor's experience with the company at the show.
The new booth will include the debut of Dolabany Eyewear, Mario Galbatti, and Plume Paris 2013 frame releases and brand campaigns. This year, the collections display a balance of retro inspiration with modern flare. The frames feature inspiring temples, brow-bar accents, and impeccable details, in unique, bold colors. Comfort, fit, and quality are also integral to the design of all Best Image Optical eyewear.
In addition to viewing the collections in person, eye care professionals attending the show will be able to take advantage of Best Image Optical's exclusive Vision Expo West Show Specials, which include an iPad giveaway and a Customer Loyalty program that offer ongoing discounts throughout the year, making Booth #20017 a must-see display. For a preview of what is to come at Vision Expo West, visit http://www.BestImageOptical.com, or call Best Image Optical directly at 800.688.7661 to find how you can receive a complimentary admission worth $75.
About the Company:
Founded 25 years ago, Best image Optical is an optical wholesale distributor that began by launching Dolabany Eyewear, offering fashionable and on-trend styles. Moreover, after the continued success of the Dolabany brand, Best Image Optical introduced two lines – the Mario Galbatti and Plume Paris. Utilizing the finest materials as well as attention to detail in every design, Best Image Optical continues to be a leader in the industry offering some of the finest eyewear in the market today.