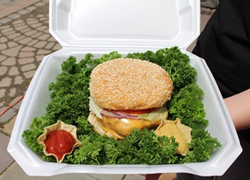 We want to thank all of the competitors and judges for making the event a success, and we congratulate Joe on the win.
Carmel, New York (PRWEB) June 10, 2015
Joe Saccente of Shrub Oak, New York has earned a spot at the 2015 World Food Championships after crafting the winning-burger at this weekend's New York Bull Burger Battle at Best in Backyards in Mahopac, New York.
Competing with friend Chris Prichinello of Cortlandt Manor, New York under the team name "Mr. Dirt's BBQ," Saccente came in first with a score of 91.667. He was the only one of 14 competitors to score in the 90s. .
The "All American Cheeseburger" incorporated ground beef (80-percent lean, 20-percent fat), salt, pepper, onion, lettuce and tomato. Saccented topped it with American cheese and served it on a Sesame seed potato bun.
"I can't believe I won," Saccente said after hearing the news.
Saccente, an iron worker and a father of two, competed last year when Best in Backyards hosted the first New York Bull Burger Battle. For that cook-off, he created a burger using a mixture of ground beef and ground pork, caramelized onions, peppers and more. He came in last place.
Saccente did "everything different" for the 2015 competition.
"Last year me, Chris and my old man sat in my kitchen and made 30 sliders. This year I forgot about the competition until the night before," he said, adding that he kept this year's entry simple. "Last year the basic burgers scored better, so we learned from that."
As he announced the results, World Food Championships CEO Mike McCloud commented on Saccente's relaxed nature.
"I can't believe he did it because he never had sweat on his face," McCloud told the crowd.
When he heard that, Saccente thought to himself, "He can't be talking about me."
"I thought middle of the road," Saccente said when asked where he was think he'd place.
Saccente's first-place prize is a Lonestar Grill Cart, valued at $2,300, from Bull Outdoor Products and a trip for two to compete in the World Food Championships in Kissimmee, Florida this November.
Behind Saccente came Dave Conti of Red Planet BBQ in Seymour, CT with second place. Third place went to Rocky Julianelle of Big Rock BBQ in East Haven, CT.
Dozens of people attended the event, which featured giveaways, face-painting and free food in the form of burgers, hot dogs and even pizza cooked on a Bull grill. There was also live radio entertainment from 100.7 WHUD and a chance to win a trip to Kissimmee, Florida to watch the World Food Championships.
"We were ecstatic to see so many families having such a great time," said Rolf Zimmermann, Vice President of Sales for Best in Backyards. "We want to thank all of the competitors and judges for making the event a success, and we congratulate Joe on the win."
The Best in Backyards competition was judged by Mike Bennett of 100.7 WHUD, Will Hanson of Bull Outdoor Products, Thom Ianniccari of the Greater Mahopac-Carmel Chamber of Commerce and Allan Twitty Insurance, and Bill Pope of the Greater Mahopac-Carmel Chamber of Commerce and the Positive Zone. The judges scored each burger on execution, appearance and taste.
The New York Bull Burger Battle is one of the qualifying events for the World Food Championships. Upcoming Bull Burger Battles are set to take place in Chicago, Indianapolis and San Diego this summer.
For photos and a full list of scores, visit the Best in Backyards blog.
About Best in Backyards
Best in Backyards is the retail division of Eastern Jungle Gym, a leading manufacturer of wooden swing sets. With six locations in Connecticut and New York, Best in Backyards sells cedar playsets, storage sheds, Springfree trampolines, outdoor kitchen islands, pergolas, pavilions, retractable awnings, gazebos, pool houses and basketball systems.