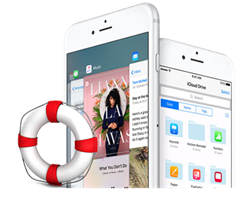 Bestiphonedatarecovery.com Listed Top Five iPhone Data Recovery Software Products 2016
(PRWEB) December 08, 2016
Bestiphonedatarecovery.com, an online portal that disseminates information on the latest data recovery software programs and mobile applications, recently published the list of top iPhone data recovery software applications. The recently refreshed list of software programs features the top five iPhone data recovery software programs and mobile applications of 2016, though the publishers indicated that they will soon publish the list of top Android data recovery software applications of 2016 as well.
iPhone data recovery particularly works for those users who accidentally lose their phone data, including contacts and media files. The owners said that Apple's iPhone does not have any built-in data recovery features, which is why it becomes difficult and almost impossible for users to recover lost data. However, the publishers maintained that all five software programs listed on the portal now can ensure partial or complete recovery of lost iPhone data. They said that the software programs listed can be downloaded and installed for photo recovery, video recovery and contacts recovery.
The top five iPhone data recovery software programs, according to Bestiphonedatarecovery.com, are FoneLab, Dr. Fone for iOS, PhoneRescue, Tipard for iOS, and iSkysoft for Mac. Of these, FoneLab can recover and also provide backup for nineteen different types of phone data. Dr. Fone for iOS is another iPhone data recovery software product which can recover data from phone apps. The publishers and reviewers of Bestiphonedatarecovery.com also said that the other software programs listed also come with unique features.
"iPhone data recovery is even more challenging than Android data recovery. Some of the software products listed on our portal work on the cloud, and the user data can be stored on cloud. Cloud data backup is a relatively new trend which is indeed a very effective and failsafe. We hope our readers will enjoy reading the in-depth reviews of top data recovery software products that are available for Windows, iOS and Android platforms. We will come up with revised lists at regular intervals," said the chief reviewer of Bestiphonedatarecovery.com. The reviewer also noted that they will soon come up with more reviews.
About the Company
Bestiphonedatarecovery.com is a review portal listing data recovery software products.
To know more, visit http://www.bestiphonedatarecovery.com/