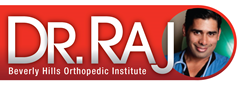 The latest knee replacement implants now last 20 to 30 years instead of 10 to 15, and Dr. Raj has performed hundreds of successful knee replacements!
Beverly Hills, California (PRWEB) March 17, 2014
The top orthopedic surgeon in Los Angeles and Beverly Hills, Dr. Raj, is now offering total knee replacements that have a considerably longer lifespan than previously available. With the new technology and enhanced surgical techniques, the knee replacement implants are often lasting 20 to 30 years on average. For more information and scheduling call (310) 247-0466.
Traditionally, total knee replacement has been considered an excellent procedure for pain relief and increasing patient function. Patients are able to walk farther, participate in recreational activities and greatly improve their quality of lives.
However, the implants are not meant to last forever. This can lead to the eventual need for a total knee revision, which can have an increased complication rate. Lifespans of implants in the past typically ranged from 10 to 20 years.
With the latest advancements in implant materials and surgical techniques, the chances of needing a revision are significantly decreased. This is because the implants are now able to last from 20 to 30 years typically with the latest advancements.
Dr. Raj utilizes total knee implants with these modern advancements, such as mobile bearing platforms, improved polyethylene and enhanced biologic compatibility. In addition, improved surgical techniques such as computer navigation have been able to increase the lifespan of a total knee replacement.
For several straight years, Dr. Raj has received the award for one of LA's top orthopedic surgeons. In addition, he is an ABC News medical correspondent along with being a WebMD medical expert.
Most insurance is accepted at the Beverly Hills Orthopedic Institute, where Dr. Raj has performed hundreds of successful knee replacements.
Call for more information and scheduling with a knee replacement surgeon Los Angeles trusts to (310) 247-0466.