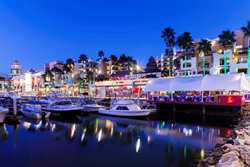 Cabo San Lucas, Mexico (PRWEB) April 09, 2015
Marina Fiesta Resort is one of Cabo San Lucas' premiere properties, offering all those who visit the ultimate exposure to top of the line luxury. Exclusive access to some of the most high-class accommodations within Mexico is only the starting point of an amazing trip. Every traveler who visits will fall in love with the friendly staff as well, who goes the extra mile whenever they can to ensure all those who visit have the best experience possible.
Families who are going on vacations together this year are often in search of a travel destination that offers a variety of different amenities or perks to help make their trip more affordable. That's why so many travelers enjoy planning their stay at the best location in Cabo, Marina Fiesta Resort, because all those who do visit get the chance to have one of the best Mexico vacations possible. A new program the resort has recently started at the beginning of the month has got vacationers buzzing and here are a few reasons why.
For any traveler who plans on staying at any of the Marina Fiesta Resorts in the Cabo San Lucas area, the new Dine Out plans are another reason to enjoy spending a vacation here. Travelers who happen to purchase the all-inclusive plan offered through the resort gain access to even more delicious restaurants and eateries than ever before.
Travelers can enjoy eating a meal at any of the mouth-watering locales located in the Golden Zone as well as a variety of restaurants located at the sister property, Hacienda Encantada. The choices include many local favorites, like waking up to enjoy a fresh breakfast at La Palapa Breakfast buffet, dining on exotic seafood at newly renovated Baja Lobster Co, or enjoying Mexico's finest export at El Tequila Lobby Bar. The options are endless!
Travelers who are hoping to save money during their vacation now have more options than ever when it comes to trying the amazing and authentic fresh food found in Cabo San Lucas without breaking the bank by paying for meals three times a day. Marina Fiesta Resort knows travelers deserve the best, and that is why this Luxury Los Cabos Resort strives to provide it in any way possible. For more travel planning information please visit http://www.marinafiestarsort.com.
###
Best Location in Cabo San Lucas Marina Fiesta Resort Contact Details:
http://www.marinafiestaresort.com/
Blvd. La Marina, Lotes 37 y 38
Cabo San Lucas, B.C.S., 23410
From US Toll Free 1-877-243-4880
Within Mexico +52 (624)145.60.20
FAX +52(624) 145.60.21
sales(at)marinafiestaresort(dot)com
Press release distributed by JW Maxx Solutions, a leader in content management solutions.