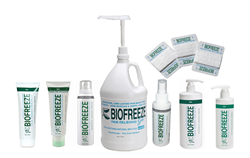 Massage product offerings for cold therapy and an innovative massage supply
Chicago, IL (PRWEB) September 25, 2014
The number one clinically used and recommended topical analgesic, Biofreeze Pain Reliever, is now a part of the vast selection of massage products available to healthcare professionals from BestMassage.com's massage table warehouse. Biofreeze absorbs quickly and provides immediate and effective short term pain relief for everything from soreness and sprains to arthritis.
"With the popularity of cryotherapy, we felt it was important to expand our massage product offerings for cold therapy and add an innovative massage supply like Biofreeze to our massage warehouse" says Peter Wang, Marketing Director of BestMassage.com. "Biofreeze is effective and natural, paraben free and includes botanicals like arnica, aloe and calendula. We're excited to have this amazing massage product and because Biofreeze is only available at licensed retailers, it's just another way we try to connect our customers with the best massage tools."
Biofreeze will be available in a variety of sizes and formats including gel (4 oz. tubes, 4 oz. tubes with hands free applicator, 16 oz. pump, 32 oz. pump, and gallon pump), spray (4 oz. 360, 16 oz.) and singles. The gel format is great to incorporate with massage, the spray is for hands free applications (and difficult to reach areas) and the singles are perfect to offer as sample trials or for use at home.
"We have a lot of Biofreeze options for practitioners to customize according to their needs" adds Wang. "They can choose based on how many people they serve, application preference and if they want to encourage clients to use Biofreeze at home between sessions."
The Biofreeze line can be found at BestMassage.com in the "Hot and Cold Therapy" massage product category.
About BestMassage.com
BestMassage.com is proud to be a BBB (Better Business Bureau) accredited organization with a BBB Rating of A+. Having over 14 years of experience and knowledge behind us, we are committed to offering massage therapists and those who care about health and well-being a complete line of high-quality massage tables and supplies at the best prices possible with exceptional, friendly service, and fast shipment. Detailed information on the company can be obtained by visiting http://www.bestmassage.com/