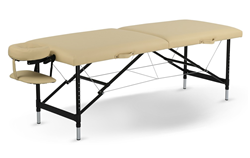 The lightest, and most affordable portable massage tables on the market
Chicago, IL (PRWEB) May 19, 2015
The DuraLite BodyChoice is one of BestMassage.com's latest portable massage tables. The international massage table and supplies warehouse is proud to offer one of the lightest, and most affordable portable massage tables on the market. The DuraLite BodyChoice portable massage tables are made of high-quality, aircraft aluminum to guarantee feather light weight balanced with professional strength and stability. The DuraLite BodyChoice is available in two width options - 28" or 30" wide.
"We've designed a new portable massage table to make mobile practice even more effortless," said Peter Wang, Marketing Director for BestMassage.com. "The DuraLite is an extremely affordable, portable massage table that reduces massage therapists' strain on their backs and budgets."
From shiatsu release to the Auto-Lock Leg and Frame System, DuraLite includes standard BodyChoice massage table features, complimentary massage table accessories, and is covered by BestMassage.com's Signature Best Price and Money Back Guarantees.
"We are always trying to improve our massage products. This special model can be adjusted to provide a custom fit for both massage practitioner and massage client to ensure maximum comfort, " added Wang. "These new portable massage tables feature an option to attach and detach removable wheels on the legs for even more easy portability."
Standard massage table accessories include adjustable headrest, face pillow, hanging arm shelf and carrying case. View the new portable massage tables and more details at http://www.BestMassage.com.