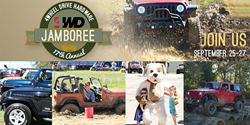 It will be the last chance to register onsite for the Ultimate Rugged Wrangler Jeep giveaway, in addition to over $10,000 in giveaways.
Columbiana, Ohio (PRWEB) September 23, 2015
Prominent provider of aftermarket Jeep parts and Jeep accessories, 4WD, will hold its 17th annual Jeep Jamboree in Columbiana, Ohio this weekend September 26-27. Admission to the event is free and activities for jeepers include trail rides and an obstacle course, over 80 onsite vendors, a Show-n-Shine and over $10,000 in 4x4 aftermarket product giveaways. It will be Customer Appreciation Day and Jeep enthusiasts will be there showing off their rigs and shopping for products from popular manufacturers like Bestop and Trek Armor.
"In the 17 years we've been doing the jamboree, this year's event promises to be the biggest," says Sean Campbell, 4WD General Manager. "We've doubled the size of the Jeep playground/obstacle course, we'll have a 30x30 ft. Jumbotron and over 80 vendors are scheduled to be here."
The jamboree kicks off informally at 6 p.m. on Friday night with a Jeep & Greet at the Sandwich Factory in Columbiana Plaza. The official start is at 9 a.m. Saturday morning and events will have a family flavor and appeal for Jeep enthusiasts. 4Wheel Drive Hardware is involved with a variety of Jeep festivals during the year and was a Premier sponsor of this year's Bantam Jeep festival in Pennsylvania, joined sponsors at the Summer Midwest Willys Jeep Reunion in Illinois and was a sponsor for the 2015 Ocean City Jeep Week in Maryland.
"Over 200 Jeeps are registered for the Show-n-Shine and it will be the last chance to register onsite for the Ultimate Rugged Wrangler Giveaway, in addition to over $10,000 in other giveaways," says Campbell. The sweepstakes started in February and has featured monthly chances to win parts used on the Jeep. The blue 2015 Wrangler is decked out with parts from Rugged Ridge's Exploration package including a roof rack and set of bumpers. The Jeep also sports Pro Comp Xtreme MT2 35-inch tires along with Rugged Ridge Jesse Spade wheels.
About 4Wheel Drive Hardware: 4Wheel Drive Hardware is the leading industry provider of Jeep parts and accessories, with a passion for serving the needs of the off-road industry and community. Discover the latest products like ARB bumpers, and Jeep tires and wheels and connect with other Jeep owners worldwide. Visit them online at 4wd.com or call the toll-free order number 800-555-3353.