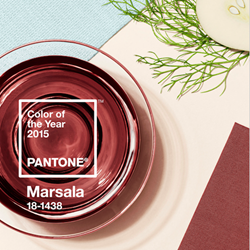 consumers should not be afraid to get in touch with their vampy side with any of these top 10 must-have products
(PRWEB) December 17, 2014
BeautyStat.com readers lusted over Emerald in 2013 and fan-girled hard over Radiant Orchid in 2014. But now, the geniuses at Pantone have announced Marsala as the new "it" color of 2015. Our readers are more than excited to try some new cosmetic goodies and looks for the upcoming year.
Deeper and sultrier than some of Pantone's former color picks, consumers should not be afraid to get in touch with their vampy side with any of the top 10 must-have products chosen by BeautyStat editors.
Selections include brands like Clinique, CND, Shiseido, Make Up For Ever and Cargo Cosmetics. See the top 10 list here:
Review: Top 10 Best 2015 Pantone Color Of The Year Marsala Cosmetic Picks
BeautyStat.com is a niche-based beauty influencer platform that reaches over 20 million consumers. BeautyStat has shown proven results with campaigns that have delivered over 200 million total impressions and have significantly raised brand share-of-voice and product sales for clients that include COTY, Walgreens, Beauty.com, Target, Johnson & Johnson and P&G.
BeautyStat.com has been featured in Women's Wear Daily, LA Times, New York Times, Forbes Magazine, NBC and CBS News.