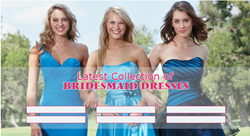 Chinese Wholesaler Bestpricesdress.com Offers Eye-Popping Discounts on Wedding Apparels
(PRWEB) December 08, 2014
As the countdown for Christmas has already begun, online retailers and wholesalers are making every effort to lure in customers who have already started shopping special occasion dresses online. Bestpricesdress.com, a wedding apparel wholesaler from China, recently announced eye-popping discounts on the wedding apparel and prom dresses that they sell through their website. The owners have argued that formal dresses and wedding dresses might be available in popular online retail stores, but in most cases, these high-end products cost customers a lot. The online store has slashed down the prices of wedding apparel to such an extent that even customers on low budgets can easily afford these dresses. The "best price dress" deals have already started to drive sales, the owners confirmed recently.
The discounted prom dresses that are available through the Bestpricesdress.com e-store are now shipped to the doorstep of customers, thanks to the worldwide shipment policies recently adopted by the Chinese wholesaler. The owners have stressed the fact that similar dresses are easily available in department stores and big brand outlets, but none of these branded stores can beat their price promise. While explaining the pricing policies of the company, the owner of the wedding apparel 2015 wholesaling store mentioned that they have low overhead costs. Being a wholesaler, they can always enjoy low inventory management costs and that gives them the edge in the competitive market.
"Being a wholesaler doesn't mean we cannot retail our merchandise. On one hand, we are a trusted wholesaler for hundreds of reputed brands. On the other hand, we sell inexpensive special occasion dresses to our online store visitors at amazingly low prices. Customers get what they want, high quality products at staggeringly low prices. Our collection of wedding and prom dresses comes with the most popular design patterns, from classic to trendy, from retro to the most up-to-date designs", said the owner of the firm at a recent press meet.
"Our discount prom dresses have already created a sensation among our customers and we expect sales figures to reach new highs towards the end of the year", he added.
About the Company
Bestpricesdress.com is a trusted online retailer that sells wedding and prom dresses at wholesale prices. The company is based out of China.
To know more about the discounted products, visit http://www.bestpricesdress.com/