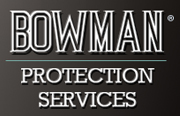 Barrie, Ontario, Canada. (PRWEB) July 03, 2014
Summer is one of the most popular times of the year for exciting activities and events. Summertime brings with it concerts, festivals and much more. Ensure that any celebration runs smoothly and those in attendance without a single worry by trusting the best protection services provider in Ontario, Bowman Protection Services.
Aaron Bowman, founder and CEO has always led by his example, having an admirable work ethic along with a dedication to carrying out his duties with thoroughness. Bowman had a long and illustrious career in law enforcement, holding such prestigious titles as Chief of Police Personal Protection. He also served as undercover security for the Canadian Federal Chief of Police Conference.
Now in the private sector, Aaron Bowman's dedication to serving with integrity and attention to detail is still as important to him and his business as when he was on the police force. No matter what the function or protection services a client may require, Bowman Protection Services has a comprehensive plan and a solution.
Among the many services that the professionals at Bowman Protection Services offer are: event security, consultation services, nightclub security training courses and "on the job" training, booth and bottle protection, personal protection services, license preparation courses and testing, and much more. BPS is truly a one-stop-shop for everything individuals and businesses need to secure their homes, venues, shop fronts and more.
Bowman and his team even offer civil, criminal and family law advice and counseling as well as counseling for law enforcement and their family members. As someone who has been in and served in various levels of the police force, Aaron Bowman can provide insider information and insight into the issues and concerns that many families of law enforcement officials have.
"Patience is Power" is one motto the company strives to abide by. Bowman Protection Services is the first in the industry to combine client promotions with exemplary customer service in regards to security. For all those who need premium quality protection services no matter what the need or event may be in Ontario, turn to Bowman Protection Services. For more information and a quote, visit http://www.bowmanprotectionservices.com.
(705) 717-3171
info(at)BowmanProtectionServices(dot)com