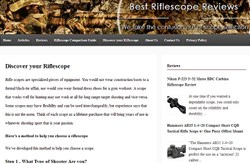 (PRWEB) February 01, 2014
After a successful launch in 2013, bestriflescopereview.net has moved quickly to address its rapidly growing customer and user base by extending its range of riflescopes and other associated products and expanding the features on its website at http://www.bestriflescopereview.net.
As part of the site's aim to provide greater clarity and expert information for the user prior to the purchase of riflescopes, the new-look website now packs a vast range of additional features. This includes an increased number of reviews about many different types of riflescopes, from the most expensive scopes that can cost more than the rifle itself, to a number of budget options to those on a more modest budget.
A spokesman for http://www.bestriflescopereview.net explained that since the site was first founded, it has quickly grown in popularity with customers as far ranging as military servicemen and women, law enforcement officials as well as a large number of hunters.
"It was apparent relatively quickly after launch that there was a far greater demand for information on riflescopes than we had previously estimated. We listened to what our customers were looking for on the site and what they felt it was lacking and asked our web development team to come up with a site that more than matched the expectations of our visitors."
The new site still offers reviews of riflescopes as part of its core appeal to users, but the site now includes a host of additional features that have the potential to bring in new custom.
In addition to reviews, the site has an active blogging section, which gives users practical advice on how to choose the perfect riflescope for their needs. Other useful posts on the site include the top ten mistakes people make when buying a riflescope, how much they need to spend to purchase a scope that is suited to their requirements, how to zero a scope and a post about scope rings and bases.
One of the most attractive aspects of the original site, the Riflescope Comparison Guide, has also been given a revamp with considerably more scopes now included on the updated list. This highly useful comparison tool gives potential scope buyers a quick-to-reference guide to the differences between many of the top riflescopes available on the market today.
Cleverly, the new comparison guide now features a sort function, which allows users to list the scopes in order based on a number of different factors, such as cost, length, tube diameter and the bestriflescopereview.net rating that the scope achieved when tested.
Another new aspect of the site is the Discover your Riflescope section, which takes you through a step-by-step decision making process, helping you to identify which is the ideal riflescope for you based on your needs, budget, the type of scope you need and the type of shooting you will be doing with the scope attached to your rifle.
Founded in 2013, bestriflescopereviews.net was developed to provide potential purchases of riflescopes with all the information they needed to make an informed choice in the often-confusing riflescope market. The site aims to provide users with clear, comprehensive and professional reviews of a wide range of riflescopes, enabling them to make an informed choice as to which scope they need and whether it is within their budget. This information is provided free of charge to users of the site.