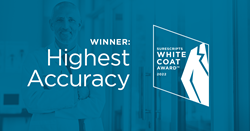 "BestRx has remained committed to developing software solutions to help independent pharmacies operate and better care for their community," says Hemal Desai, President of BestRx. "This includes providing pharmacies with a way to process electronic prescriptions quickly and accurately."
OAKBROOK, Ill. (PRWEB) October 18, 2022
BestRx has received the 2022 Surescripts White Coat Award™ for Highest Accuracy, the healthcare industry's premier recognition for leaders in e-prescription accuracy.
BestRx, a pharmacy technology vendor, is among the top winners from across the Surescripts Network Alliance® who met the highest standards for prescription accuracy and patient safety.
BestRx knows that patient health and safety is at the heart of everything a pharmacy does. That's why we build our pharmacy software around simplifying their prescription workflows. By streamlining the way pharmacies receive and process scripts electronically, BestRx helps to ensure their compliance and accuracy.
"Since our inception, BestRx has been focused on developing software solutions that help independent pharmacies operate more efficiently and ultimately better care for their community," says Hemal Desai, President of BestRx. "Software integrations, like the one we have with Surescripts, enable us to do just that. Our pharmacy management software is designed with the pharmacy in mind, providing a simple, effective way for them to receive and process electronic prescriptions quickly and accurately."
The 2022 Surescripts White Coat Award recognized winners in three categories:

The Highest Accuracy award recognizes the best overall accuracy score.
The Structured & Codified Sig Champion award recognizes organizations making the best use of the Structured & Codified Sig field.
The RxChange Champion award highlights organizations successfully advancing the RxChange transaction.
"We are incredibly proud of this year's White Coat Award winners, who are among the highest achieving to date," said Frank Harvey, Chief Executive Officer of Surescripts. "It is a tremendous point of pride that they are among our Surescripts Network Alliance, optimizing the performance of the Surescripts network and leading the transformation of healthcare across the country."
White Coat Award winners are evaluated based on data provided by Surescripts Sentinel®, an automated system that monitors electronic prescriptions and delivers insights to pharmacies, health systems and technology vendors. In 2021, the Surescripts Network Alliance saw a 10% increase in the aggregated Quality Index Score for electronic prescriptions across the network—a 200% improvement since 2016.
Visit Surescripts.com to learn more about the Surescripts White Coat Award.
About BestRx
Founded in 1985, BestRx is proud to still be a family business. Our goal from day one has been to give independent pharmacies the tools needed to run their business more efficiently and profitably while advancing the level of patient care. BestRx prides itself on its intuitive, easy-to-use platform, first-to-market features, and unparalleled customer service. BestRx is committed to ongoing innovation, ensuring they'll always be at the heart of growth. Visit http://www.bestrx.com to learn more.