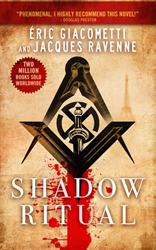 Vivid characters, evocative international settings, and a history darker than midnight.
New York, New York (PRWEB) March 25, 2015
Ritual murders. Ancient enemies. A powerful secret.
Eric Giacometti and Jacques Ravenne ranked at the top of France's best-selling thriller writers list in 2014. They owe their international renown to their series about the Freemason Inspector Antoine Marcas, which is making its U.S. debut on March 25 with Shadow Ritual.
Two slayings—one in Rome and one in Jerusalem—rekindle an ancient rivalry between modern-day secret societies for knowledge lost at the fall of the Third Reich. Inspector Antoine Marcas unwillingly teams up with the strong-willed Jade Zewinski to chase Neo-Nazi assassins across Europe. They must unravel an arcane Freemason mystery, sparked by information from newly revealed KGB files.
The novel is inspired from the true story of mysterious Freemason files thought to hold a terrible secret, stolen by the SS in 1940, recovered by the Red Army in 1945 and returned half a century later. Co-author Jacques Ravenne recalls "the first time I encountered those mythic archives: cardboard boxes labeled on one side with gothic letters and the other with Cyrillic. I just stared at an eighteenth-century manuscript with a square and compass signed by Benjamin Franklin, and dreamed about the secrets that could be found in the hundreds of boxes. Eric and I looked at each other, and we knew we had the start of our story."
Get exclusive content about Freemason facts and fiction. The authors share their research and inside information. Click here.
Praise
"Phenomenal. I highly recommend this novel!" —Douglas Preston, #1 bestselling coauthor of the famed Pendergast series of novel
"European bestsellers Giacometti and Ravenne make their U.S. debut with this intrigue-filled thriller...those into Freemason lore and Nazi myths will be satisfied." —Publishers Weekly
"A superbly esoteric blend of history and adventure." —Glenn Cooper, internationally bestselling thriller writer
"Giacometti and Ravenne's series kickoff has abundant visceral appeal." —Kirkus Reviews
The authors
ERIC GIACOMETTI studied biochemistry and genetics in Toulouse, France, before going into journalism. Then, at the height of his career as an investigative reporter, Eric Giacometti was contaminated by the thriller virus. His life took on another dimension: journalist by day, writer by night. In 2013, he left his full-time reporting job with a French daily newspaper to work freelance and write. He teaches journalism and writing.
JACQUES RAVENNE is a high-level French Freemason. He is also a literary critic, known for his work on the writers Paul Valéry, Yves Bonnefoy, Gérard de Nerval and Stéphane Mallarmé. In addition to his academic work, he was also a local elected official for a number of years, and contributes regularly to Freemason publications. He discovered the Marquis de Sade's château in 1985, beginning a long fascination with the man, which has resulted in an anthology of his correspondence and a novel based on Sade's life.
The book
Shadow Ritual by Eric Giacometti & Jacques Ravenne; translated by Anne Trager—published by Le French Book—ISBN: 978-1-939474-29-2 (ebook)/ 978-1-939474-30-8 (trade paperback) / 978-1-939474-31-5 (hardback) — First published in French (Rituel de l'ombre, Fleuve Noire, Paris)—Release: March 25, 2015.
About Le French Book
Le French Book (http://www.lefrenchbook.com) is a New York-based publisher that brings France's best mysteries and thrillers to new readers across the English-speaking world. Its motto is: "If we love it, we'll translate it."
©2015 Le French Book, Inc. All rights reserved. Information is subject to change without notice.