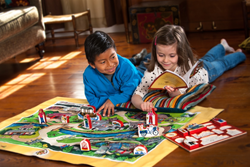 Toys and play need to prepare kids for a more global society.
HERSHEY, Pa (PRWEB) October 15, 2015
Paving the way toward a more global society, World Village Playset - China has been awarded Dr. Toy's 10 Best Socially Responsible Toys of 2015. An innovative new toy launched in April 2015, World Village Playsets are fun and engaging educational toys that immerse kids in fascinating cultures. First stop, China!
"Manufacturers and retailers who promote these social good aspects resonate deeply with Millennial and Gen X Parents, as well as with Baby Boomer grandparents." said Reyne Rice, Toy Trend Hunter (Sept/Oct 2015 trade journal "The Toy Book") in describing her 2016 toy trends.
World Village Playset - China was also awarded Dr. Toy's 100 Best Toys of the Year, a 2015 Parents' Choice Silver Honor and the Creative Child 2015 Toy of the Year for Kids Playsets.
Designed for kids ages 4 & up with 30 pieces overall, it's the first in a series of World Village Playsets, each exploring a different culture. It is available at Whole Wide World Toys, Amazon and specialty toy stores (SRP $59.99).
Each World Village Playset - China includes:

a high quality soft fabric playmat with rich details and wall-worthy illustration
a 13-piece painted, chunky wood puzzle for interactive play, with Chinese-English translation of each figure
My China Travel Journal, a 32-page color story and activity book, features interesting, informative illustrations and is narrated by Emma and Joe, a brother and sister traveling in China.
14 story cards with prompts for storytelling and images for matching with the playmat
"Global awareness is a 21st century skill that can make kids' lives richer and the world a better place." said Laura Barta, Founder & President of Whole Wide World Toys, Inc.
Dr. Toy reviews a large quantity of varied products created by manufacturers and designers the world over. Dr. Toy is an industry leader in toy testing and uses extensive criteria for excellence to award the best toys of the year, including questions such as:
Is this product worth the price?
Does it have lasting "play value"?
Is it appropriate?
Is it fun?
Does it meet safety standards?
And, criteria such as cultural sensitivity, educational value, and ethnic diversity.
About Whole Wide World Toys
Whole Wide World Toys was founded in 2014 by Laura Barta, former P&G executive and mom of two who has lived in and traveled to many countries around the globe with her family. The mission of Whole Wide World Toys, Inc. is to inspire cultural curiosity and respect for a wide variety of cultures.
-End-