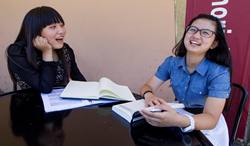 Saw need for reputable company to offer college admissions and cultural counseling
ST. LOUIS (PRWEB) September 02, 2014
Approximately 40 high school students from China are enrolled in two Lutheran schools in St. Louis, as the Kitebridge American boarding school program enters its second year.
Many arrived in August to attend the High School Prep Camp that helped them learn about American culture — including the current dance fads, and polish their English before school started.
Kitebridge offers one counselor and an American roommate for every three international high school students. It also offers local students the opportunity to live in the dormitory for a month, helping both Americans and Chinese to understand each other's culture and language better.
"We formed Kitebridge in response to the need for a reputable American company to offer housing and academic and cultural counseling to international students," said CEO Hyong-Bum Kim, who has worked in Hong Kong, Korea, China, Japan and Taiwan.
"Too many schools have as few as two counselors for hundreds of students," Kim explained. "Some place dozens of Chinese students together in dormitories where they have minimal opportunity to improve their English, or assign them to board with families who have little time to help them broaden their cultural horizons.
"We have placed from 30 to 50 students in American boarding schools annually for the past 10 years, and the demand from China has become overwhelming," Kim said. "Many U.S. prep schools will take only a handful of students from a particular country because they want a diverse student body. We worked with the Lutheran High School Association to accommodate larger numbers of applicants and give them a quality experience with a caring faculty and fellow students at Lutheran High School North and Lutheran High School South."
In addition to the exceptionally low student-counselor ratio, Kitebridge offers other advantages over most boarding schools. Its advisers include former members of the admissions staffs at Stanford, Princeton and Cornell universities who help students choose where to go to college. It offers tours of college campuses during spring break, and Lutheran high school students are welcome to join the group.
Kitebridge is committed to helping talented students from families with modest incomes, whether they are from the U.S. or overseas. The 18 students in the initial classes in St. Louis included four scholarship students: two African-Americans and one Caucasian from St. Louis and one from China.
Counselors live in student dormitories so that they are readily available for help with everything from academic tutoring to finding a place that repairs eyeglasses.
Kitebridge also helps students find summer enrichment activities. "We expect students to fulfill three goals during the summer," Kim said. "We ask them to do something they have never done before, do something challenging, and do something they really love."
For example, two students interned at Intel Corporation in Menlo Park, Calif., this past summer, one in the venture capital department and another in the research department. Others interned in Chicago under the vice president of design for Claire's, whose stores specialize in teenage fashion. Some went to tennis and basketball camps, while another backpacked through the Montana wilderness.
A Long Island, N.Y., program opened this past August.
Kim, the son of Korean diplomats, is a naturalized American citizen. He holds an undergraduate degree from the University of Virginia and an M.B.A. from Stanford University. He was a management consultant with McKinsey & Company and the Monitor Group in Seoul and Tokyo before forming Sigma Education, Kitebridge's predecessor, in 2000.
Graduates of Kim's programs have been accepted at more than 50 U.S. prep schools and universities, including Lawrenceville School in Lawrenceville, N.J.; Middlesex School in Concord, Mass.; St. Paul's School in Concord, N.H.; Madeira School in McLean, Va.; Hotchkiss School in Lakeville, Conn.; Deerfield Academy in Deerfield, Mass.; Amherst College in Amherst, Mass.; Pomona College in Claremont, Calif.; University of California, Berkeley; and Stanford, Princeton, Harvard, Yale and Columbia universities.
Additional information is available at http://www.kitebridge.com or by calling (314) 786-3466. Other offices are in Palo Alto, Calif., Brookville, N.Y., and Beijing.
###
About Kitebridge
Kitebridge offers a U.S. high school education and intensive counseling and interactions with Americans to international boarding school students seeking a U.S. college education. It was formed in 2008 in response to the need for a reputable American company to offer housing and academic and cultural counseling to international students. It insists on having one counselor and one American student for every three international students. Scholarships are available to both U.S. and international students. Approximately 50 high school students are attending Lutheran preparatory schools in St. Louis and Long Island, N.Y. under the Kitebridge program in the 2014-15 academic year. Additional information is available at http://www.kitebridge.com.
About Lutheran High School North and Lutheran High School South
Lutheran High School North and Lutheran High School South are co-educational, private Christian schools serving students in grades 9 through 12 who live in the city of St. Louis, St. Louis County and the surrounding areas. The schools educate more than 800 students a year, continuing the nearly 60-year rich tradition of quality college-prep Christian education in the region. Students are nurtured and prepared for success with a challenging academic program and a comprehensive extra-curricular program that includes athletics, fine arts, service, leadership and other special-interest activities. The two schools are now broadening their reach through the Kitebridge program, serving international students and American students from outside the St. Louis region.