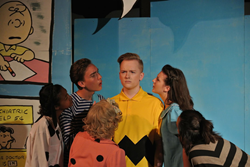 I am a firm believer that exposing kids to theatre is a great avenue for kids with low self-esteem, and research has proven the arts can boost a child's self-esteem.
Kelowna, BC (PRWEB) December 17, 2015
BEST WESTERN PLUS Kelowna Hotel & Suites is one of those Kelowna hotels that steps outside the lobby to make a difference in the community. For their latest initiative, they've partnered with Bumbershoot Theatre to make arts programs more accessible to youth.
Best Western Kelowna is supporting the theatre with an Education Benefactor sponsorship, aimed at giving the city's youth a chance to shine on stage and learn valuable life skills. The funding will support an array of programs, making them more viable for children from low-income families, and other youth in need.
"I am a firm believer that exposing kids to theatre is a great avenue for kids with low self-esteem, and research has proven the arts can boost a child's self-esteem," says Brenda Rayburn, Director of Sales & Marketing for the Kelowna hotel. "For kids who already are showing a flare for the theatre, it continues to assist them in development. In both cases, the result tends to be confident children who become leaders."
Part of Bumbershoot's mandate is to promote theatre as an integral part of the learning process for children and youth. Many members are in their pre-teen and teen years, and placing them in a positive environment where they can learn about themselves and what they're capable of will prepare them for adulthood.
"They're really critical years," says Tracy Ross, Artistic Director. "It's really amazing to watch them because they're such capable, strong young people. You just see them and you have hope for what they'll be able to create in the world."
Bumbershoot, which offers programming for kids starting at age two, strives to make its programming affordable so all kids have the opportunity to experience theatre. Contributions from local businesses such as Best Western Kelowna allow them to reach an even wider audience.
"The support of the community is what makes it possible for us to do what we do here," says Ross. "My gratitude is immense. It makes a huge difference to have these businesses come in and form partnerships."
For the Best Western Kelowna sponsorship in particular, Ross adds: "It's great timing. It sets us up for our new season." Bumbershoot Theatre's recent productions included: Beauty and the Beast (Oct. 22-25 and Oct. 29-Nov. 1) and Nancy Drew (Nov. 19-22 and Nov. 26-29).
The theatre's Education Benefactor program lines up perfectly with the Best Western Kelowna Hotel's ongoing community initiatives that support youth. Rayburn says exposing children to the arts at on a grassroots level establishes an essential learning foundation from which they can build.
"(It's) all part of building healthy kids and a healthy community," says Rayburn, who directs a number of environmental and community engagement initiatives for the hotel, including sponsoring the Civic & Community Awards Gala's Champion for the Environment Award. "I am very excited about this sponsorship journey with Bumbershoot Theatre."
Bumbershoot students learn more than just acting skills. There are many offstage roles that need filling in order to pull off a successful production, and youth are encouraged to try them all, including administration, trades and marketing.
Bumbershoot's CAST (Collaborate Arts for Stage and Theatre) program, aimed at youth aged 13-24, teaches students different aspects of theatre production over several months. At the end, they put on their own show.
"Education is a really key component of what we do here," says Ross. "Having these education sponsors allows us to give full access to what we do."
The Kelowna Best Western sponsorship will be used to support the next CAST production, as well as an upcoming actor's workshop with renowned Vancouver director/actor/teacher Scott Bellis.
About BEST WESTERN PLUS Kelowna Hotel & Suites
The BEST WESTERN PLUS Kelowna Hotel & Suites has been offering guests a convenient launching pad to all there is to enjoy in the Okanagan. The Best Western Kelowna Hotel amenities and extras include fibre optic Internet, a mineral pool, hot tubs, free hot breakfast buffet, fitness centre, spa, a restaurant and pub and more. With dozens of eco-tourism awards and a LEED Silver environmental wing as well as a sprawling, grassy courtyard surrounding its 176 rooms, this Best Western Plus has become one of the most popular 'green' and pet-friendly Kelowna hotels.
Brenda Rayburn
Director of Sales & Marketing
1-250-979-6905
info[at]bwkelowna[dot]com
http://www.bestwesternkelownahotel.com