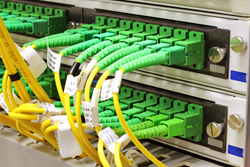 We were constantly upgrading our bandwidth, however it would never last. So, we took a big leap.
Kelowna, British Columbia (PRWEB) June 27, 2014
When guests arrive at their hotels in Kelowna, they have more than just briefcases, kids and pets in tow. They bring a half dozen wireless devices: phones, tablets and laptops for every family member, many in use at the same time. Now, multiply that by 200 rooms.
"When you think about how many devices are running in each room at any given time, especially if there are kids, and then multiply that by the number of rooms we have, there was a gazillion devices dragging down our bandwidth," says Brenda Rayburn, Director of Sales and Marketing at BEST WESTERN PLUS Kelowna Hotel & Suites.
In any given family's room, there might be one parent doing office work remotely from their laptop, another parent checking email, one child streaming videos and another playing games. "We were constantly upgrading our bandwidth, however, it would never last. So we took a big leap."
The Kelowna hotel went to fibre-optics. Unlike traditional cable Internet, fibre-optics are capable of transmitting data much faster. One thousand metres of fibre were installed inside the hotel and another 200 metres were installed outside to cover the expansive and unique layout of the hotel—a two-storey, U-shape building with an eight-floor tower at the centre. The lobby connects via a breezeway to a pub and restaurant. Every square inch needs a strong Internet connection.
"The logistics to install fibre-optics were a huge challenge. We're not a new building and definitely not a cookie cutter layout," says Kelowna Best Western CEO and partner Greg Salloum. "But this trend of travelers using multiple devices is here to stay. Efficient Internet has become one of the top amenities guests look for when they're searching for Kelowna hotels, so we know in the big picture this is the right decision."
Since the hotel completed its fibre-optic installation in early May, the hotel has received dozens of compliments on the speed of the Internet. "It's important to us to save our guests from the frustrations of waiting to download something," says Rayburn. "We believe offering fibre-optic Internet is one more step in fulfilling our commitment to excellence."
About BEST WESTERN PLUS Kelowna Hotel & Suites
The BEST WESTERN PLUS Kelowna Hotel & Suites has been offering guests a convenient launching pad to all there is to enjoy in the Okanagan since 1968. Along with the newly installed fibre-optic Internet, the Best Western's amenities and extras include electric vehicle charging stations, a mineral pool, hot tubs, free hot breakfast buffet, fitness centre, spa, a restaurant and pub and more. With dozens of eco-tourism awards and a LEED Silver Certified environmental wing as well as a sprawling, grassy courtyard surrounding its 176 rooms, this Best Western Plus has become one of the most popular 'green' and pet-friendly Kelowna hotels.
For more information, please contact:
Brenda Rayburn
Director of Sales & Marketing
BEST WESTERN PLUS Kelowna Hotel & Suites
Kelowna, BC
1-250-979-6905
brenda[at]bwkelowna[dot]com
http://www.bestwesternkelownahotel.com/