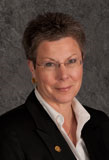 Brighton, CO (PRWEB) June 30, 2016
Elizabeth (Beth) Martin, Hepp Realty, LLC/Metro Brokers Real Estate, is featured in a special section of the September issue of 5280 magazine as a 2016 Five Star Real Estate Agent award winner.
Five Star Professional partnered with 5280 magazine to identify and showcase an exclusive group of real estate agents who have demonstrated excellence in their field. Less than 7 percent of agents in the Denver area received this recognition.
After over 30 years of ownership and operation of the Pepper Pod Restaurant (selected Best Comfort Food in Colorado by Channel 7) in Hudson, Colorado, Beth decided to pursue a career in real estate. Her extensive experience in business has honed her abilities in customer service, negotiations, communication, and the ability to come up with solutions in difficult situations.
Beth was raised in a military family and although hers was more established than many, she has still lived in almost 50 homes. She learned firsthand the joys and heartaches of moving, and as such, she offers you her expertise from real-life experiences. Beth learned much from the rich experiences of living in other countries and cultures. She knows firsthand that one of our most overlooked American freedoms is the acquisition, use and sale of real estate.
Beth also learned that Colorado was one of the best places on earth to live, so she and her husband, Dave, have lived and done business in this area for over 35 years. She cares deeply about what is occurring here on the plains of northeast Colorado and, as such, has served as Mayor Pro-tem of Hudson, Secretary Treasurer of the Board of Directors at United Power and on many other boards and committees.
She feels passionately about the business of real estate and is dedicated to not only assisting people sell and purchase real property, but hopes that after a transaction is complete, she will also have gained a new friend.
The 2016 Five Star Real Estate Agent award winners have been carefully selected for their commitment to professional excellence and overall client satisfaction. The award is based on rigorous research with significant focus on customer feedback and providing quality services.
"The homebuying and selling process can be very stressful. Five Star Professional works hard to identify those outstanding real estate agents that can make all of the difference. Five Star Real Estate Agents are experienced professionals that get top marks from their clients and get results," says Josh Kimball, VP Marketing, Five Star Professional
About the research process:
Now entering its 13th year, Five Star Professional conducts in-depth, market-specific research in more than 45 markets across the United States and Canada to identify premium service professionals.
Five Star Professional contacts thousands of recent homebuyers to identify award candidates. Phone, mail and online respondents rate their real estate agent on 10 satisfaction criteria. Candidates with a qualifying client satisfaction rating move on to be evaluated on objective criteria such as experience, production levels and disciplinary and complaint history.
Real estate agents do not pay a fee to be considered or awarded. For more information, visit http://www.fivestarprofessional.com.