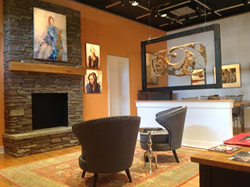 'The positive response from patrons and the arts community at large, has been overwhelmingly positive. It is uplifting for us to see our concept so well received, as well as immediately understood,' says Ward Van Haute.
Bethlehem, PA (PRWEB) August 07, 2014
The newly launched Bethlehem House Contemporary Art Gallery challenges the rules. Absent are the typical white walls and stark, track lighting of the traditional gallery.
Rather, this 2,500 square foot elegant new art purveyor is designed to look like a chic, modern living space in a grand Turn-of-the Century loft. The gallery walls are painted in bright hues and award winning theater lighting designer Jerold R. Forsyth, Drexel Hill, was hired to collaborate with set designers.
The intent is to duplicate a home environment, says curator, director Ward Van Haute, a 15-year veteran of TV and stage in the Philadelphia and New York markets. The result is a gallery that looks like a home, replete with foyer, living and dining areas, a music room, bedroom, and a study.
"The positive response from patrons and the arts community at large has been overwhelming positive. It is uplifting for us to see our concept so well received, as well as immediately understood," says Van Haute, noting sales of artwork has been brisk.
The gallery opened July 25th to rave reviews and a reception for 700 guests.
"Our mission is to demonstrate the practical use of contemporary artwork and modern interior design by exhibiting works in a furnished home environment.
"The gallery and concept is just what the (Lehigh) Valley needed. We have great artists in the region and to place their works in a home setting helps to give people an idea of where and how to hang the work so it looks beautiful in their home. Van Haute is educating clients how to live with art, a win/win for both artist and art purchaser," says Janice Lipzin, Vice President of Visual Art, Arts Quest.
"This is a dynamic new gallery in a premier location. As an arts professional working on the front lines in the Lehigh Valley for the past thirteen years, I have become a passionate advocate for our own talent. How wonderful that Bethlehem House is likewise dedicated to promoting our homegrown artists. The opening last Friday was phenomenal—I was obliged to leave early simplify because it was so crowded. Bravo!" says Christine Oaklander, curator.
Van Haute worked as a graphic artist, a television set designer, and a university theater professor before turning his attention to fine art full time. His reversed painting on glass pieces are in the current exhibit.
"We believe that anyone can be a fine art collector and all homes can be enriched by the display of original art," says Van Haute. He adds, By using theater lighting to alter and create different moods, times of day, and even emotion, we believe the effect puts fine art into the context a home.
Bethlehem is former home to The Bethlehem Steel Corp and has since earned a Best Places to Live in the USA nod. The city is located in the Lehigh Valley, about 60 miles from Philadelphia and 80 miles from NYC.
Bethlehem House Contemporary Art Gallery specializes in both emerging and established regional artists and provides original, innovative art in a variety of contemporary styles for a variety of household budgets.
Seven contemporary artists are on exhibit through October 25th include: Khalil Allaik, Nancy Bossert, Arturo Cabrera, Darrell George, Gini Illick, Robert Taylor, and Ward Van Haute. Furniture Artists on view are Stephen Metz and Ryan Welty. Bethlehem House Contemporary Art Gallery is located at 459 Main Street Bethlehem, PA 18018. Visit http://www.BethlehemHousegallery.com. Phone 610-419-6262.
Email is Ward(at)BethlehemHouseGallery(dot)com.