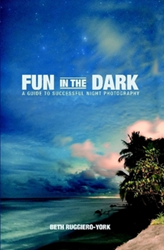 SCOTTSDALE, Ariz. (PRWEB) August 11, 2015
Author and photographer Beth Ruggiero-York has filled what she sees as a void in photography literature with her new book, "Fun in the Dark: A Guide to Successful Night Photography" (published by Lulu).
"There is a strong curiosity among photographers of all levels and types about taking pictures at night, whether landscapes, stars or cityscapes," Ruggiero-York says.
Photographers might wonder what setting to use, how to focus at night, what special equipment is needed, etc. "Fun in the Dark" answers all the questions and provides straightforward instruction to get out at night and take pictures successfully.
Ruggiero-York hopes readers will come away from her book understanding the facets and principles of night photography. She believes her book will create "Aha!" moments for readers.
"Having always had a passion for the beauty of the night, I had a natural desire to create images of the world after dark," Ruggiero-York says. "I read, experimented, failed, tried again, studied more and, ultimately, began sharing with others and teaching what I had learned.
"Fun in the Dark"
By Beth Ruggiero-York
Hardcover | 6 x 9 in | 116 pages | ISBN 9781483431970
Softcover | 6 x 9 in | 116 pages | ISBN 9781483431987
E-Book | 116 pages | ISBN 9781483431963
About the Author
Beth Ruggiero-York is an internationally award-winning photographer who specializes in night photography. Originally from the Northeast, she and her husband now spend summers on Cape Cod and winters in Arizona, where she is a photographer and instructor for Arizona Highways Photo Workshop and the Desert Botanical Garden. Fluent in Chinese, Ruggiero-York has done photography in China for National Geographic to create their photo tours.
Lulu empowers people of all ages to explore and express their interests, passions and expertise through books, photography and art. Since introducing self-publishing in 2002, Lulu has empowered creators in more than 225 countries and territories to produce nearly two million publications. Lulu Jr. allows children to become published authors, encouraging creativity, strengthening literacy and building self-esteem. Picture.com offers professional photography of collegiate and professional sports, memorable and historic events, fine art and home décor. For more information, please visit lulu.com.