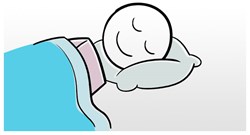 Topeka, KS (PRWEB) November 12, 2013
Winter brings colder temperatures, dry air, less sunlight and a host of other changes that are often associated with issues like seasonal illness, cabin fever, and stress. But, with plenty of restorative sleep and other healthy habits, many winter problems can be reduced or eliminated, and these good habits can also extend year-round benefits.
Best Mattress Brand, a bed blog, offers several helpful winter wellness tips and sleep hygiene habits designed to combat the cold. In the article, "Kick Off Winter With Better Sleep Habits", readers find ten tips for staying healthy, a list of top habits for better rest, and a few suggestions for creating a winter-ready bedroom.
The first section of the article considers top ways to stay healthy, both for general wellness and in order to get the most restful sleep possible. Tips include frequent hand-washing, using green plants in the home, getting sunlight and physical activity, eating seasonal nutritious foods, drinking plenty of water, and keeping indoor air clean.
Adults are often told to strive for seven to nine hours year round, with winter being no different. Better sleep tips suggested by Best Mattress Brand include limiting naps, getting exercise, keeping bedrooms dark, avoiding stimulants, and creating a calming sleep routine. These suggestions all stem from recognized sleep hygiene recommendations.
Preparing a hibernation-ready bedroom is the focus of the last portion of the article. Best Mattress Brand offers tips on determining whether a new mattress should be considered and reminds readers that winter's Black Friday mattress deals often represent the best prices of the season. Other suggestions include deep cleaning beds and pillows and selecting winter-friendly bedding. The website also offers readers numerous mattress comparison articles and buying guides designed for product education.
BestMattress-Brand.org is a mattress research blog designed to provide information to mattress shoppers. With a mission to make bed shopping easier, editors provide unbiased assessments of manufacturer claims and customer satisfaction. The blog also features industry news and brand reviews based on first and third party research, and offers weekly newsletters for subscribers.