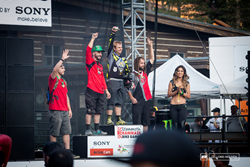 Mammoth, CA (PRWEB) September 23, 2014
The Kamikaze Bike Games hosted by Mammoth Mountain took place Friday, September 19th through Sunday the 21st. Top notch mountain bikers from around the nation gathered at the notorious Mammoth mountain range to prove their worth in the high intensity sport. Among the many riders, the boys of Team Better Buzz met up early Thursday morning to scope the trails and conditions of the mountain.
After getting their initial pre run practice in on Thursday, Team Better Buzz riders, Tim Langdon, Kyle Doyle, Chris Powell, Jason Howard, and Mike Owen suited up in their team gear provided by one of their sponsors, Alias MX, and focused in on their up and coming events.
Owner of Team Better Buzz's main sponsor Better Buzz Coffee and pro-men team rider Tim Langdon came to Mammoth's Kamikaze Race to once again prove his speed, agility and overall domination in men's mountain biking. After taking off guns loaded in the Kamikaze race event he barreled down the dirt fire road hitting speeds up to 52 mph. After snaking around the many windy curves of the tempestuous track, Langdon claimed 1st place overall in the pro-men's Kamikaze sector.
Team Better Buzz rider Kyle Doyle showed up to the Kamikaze Bike Games ready to lay his mountain biking skills all on the line. Doyle made it his mission to show that although young, he has what it takes to be the best in the sport. Pumped up and ready to shred on his competition, Team Better Buzz Rider Doyle powered down stages 1, 2, and 3 of the Enduro track and conquered the "pedaly" single track course. With a trophy and a title in mind, rider Doyle blew through the tree filled terrain and over the loose top soil covering the trail to claim 3rd place among the 37 riders in the Enduro Sport Men's 19-24 class event.
The success of Team Better Buzz at the Kamikaze Bike Games was also a result of the rest of the team riders who worked extremely hard. Although they came just short of taking their place on the winner's podium, they did hold an honorable place in each riders respective class. Team Better Buzz rider Chris Powell took an overall 8th place in the men's Pro-Class Enduro, while Jason Howard and Mike Owen placed 18th and 32nd in the men's Expert 35+ group of Enduro racers. In addition to the boys of Team Better Buzz, the newly sponsored rider Nikolas Nesteroff placed an overall 4th in the men's 18 & under cat 1 slalom division.