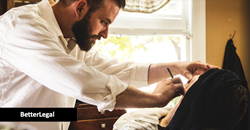 BetterLegal's Business Tax Assist is like having a dedicated CPA firm at a much lower cost
AUSTIN, Texas (PRWEB) February 17, 2022
BetterLegal, the leader in convenient and fast Business formation, introduces Business Tax Assist.
Business Tax Assist is a subscription product that provides the essential elements needed by a small business owner at an affordable price.
It offers unlimited consultation with a dedicated Tax Professional, accounting software, and bookkeeping support, to help small business owners save money, save time, and stay compliant with their taxes.
"We have worked with lots of small business owners. Starting a business is hard enough on its own without having to be an expert with Tax as well! We provide the support, tools, and training to get them up and running," said Brian Herrington, Tax Program Director. "BetterLegal includes the things that make the difference, like linking a bank account or setting up a chart of accounts. It's like having a dedicated CPA firm at a much lower cost."
Pricing and Availability
Business Tax Assist Subscriptions start at $199/month, with annual program discounts up to $400. Contact BetterLegal at (855) 980-0449 or tax@betterlegal.com to find out more.
About BetterLegal
BetterLegal is a leader in the Automated Legal Engagement Platform space and is the fastest and most affordable way for business owners to set up their business. Founded in 2017, it has an A+ BBB rating and an excellent customer review average on Trustpilot.