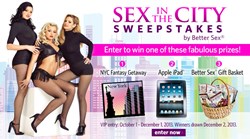 We're offering excitement be it from the Big Apple or the comfort of your own home.
Hillsborough, NC (PRWEB) October 21, 2013
BetterSex.com recently launched its "Sex in the City" fantasy getaway contest with $2,000 in prizes up for grabs, including a trip to New York City.
Themed to capture glamorous city life, this contest aims to place winners in the lap of luxury. The grand prize trip is valued at $1,250. The "Sex in the City" contest runs through December 1, with winners announced a few days later. Other prizes include an Apple iPad® and BetterSex gift package worth $250.
"This contest resonates with anyone who is seeking to live better and love better," said Maureen Castro, Web Manager for BetterSex.com. "We're offering excitement, be it from the Big Apple or the comfort of your own home."
Participants may enter here. No purchase is necessary.
About Better Sex from Sinclair Institute
Since 1991, Sinclair Institute® has developed an extensive library of videos and products covering everything from advanced sexual positions to erectile dysfunction solutions. The best selling Better Sex Video Series®, has sold more than four million videos in over 30 countries. Sinclair sex education videos help individuals learn about sexuality in the privacy of their home. Working with a diverse team of professional sex educators and therapists, we create products that work by fostering communication and creativity between partners. The Better Sex® videos address topics many people find difficult or embarrassing to discuss.