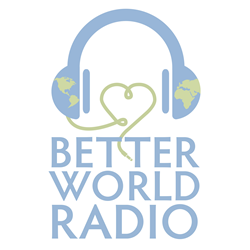 This is an organization that's not afraid to experiment with new ideas.
Seattle, Wash. (PRWEB) January 29, 2015
TisBest Philanthropy has released the second episode of the nonprofit's new podcast, Better World Radio. The podcast features interviews, news, and stories about people who are working to create a better world. Episode 002: We Had a Hunch, profiles the nonprofit's journey to create DiscoverGiving, a classroom philanthropy project that uses TisBest Charity Gift Cards as a hands-on tool to teach children about giving.
"This month's episode will give our community some insight into the way TisBest embraces growth and change in the world of charitable giving," says Jeremy Holmes, lead producer of Better World Radio. "This is an organization that's not afraid to experiment with new ideas."
Through interviews with staff and students, this month's episode of Better World Radio tells the story of the idea that spawned the organization's innovative classroom giving program, DiscoverGiving.
Additional podcast segments include the Better World Roundup—a recap of positive and uplifting current events—and updates from TisBest Philanthropy. Listeners can stream Better World Radio from the TisBest blog, or subscribe in iTunes.
More information about Better World Radio, DiscoverGiving, and other TisBest programs can be found on the TisBest blog.
Related links:
http://bit.ly/BetterWorldRadio
https://www.tisbest.org/blog/
About TisBest Philanthropy:
TisBest Philanthropy is a 501(c)(3) nonprofit organization dedicated to fostering the growth of non-material gift-giving. TisBest created charity gift cards in 2007. Charity gift cards work like conventional gift cards, but with one important exception: the recipient of a charity gift card "spends" it by choosing a charity to receive the funds.
With a TisBest Charity Gift Card, you make the donation and your recipient decides how to spend the donation, choosing from TisBest's 300+ charity partners.TisBest cards are customizable at no additional cost, and have become increasingly popular as consumer and business gifts. Learn more at http://www.tisbest.org.