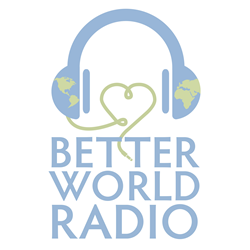 The monthly series begins with Better World Radio episode 001: Nothing But Love.
Seattle, Wash. (PRWEB) November 20, 2014
Today, the award winning nonprofit TisBest Philanthropy launches a new podcast called Better World Radio. New episodes will air each month featuring interviews, news and current events, and stories about people who are doing their part to create a better world.
The monthly series begins with Better World Radio episode 001: Nothing But Love. This episode features Kirk Smalley of Stand for the Silent, whose 11-year-old son Ty killed himself after being bullied.
"Kirk's story is an inspiring example of someone working to create a better world, despite having suffered an immense personal tragedy," says Jeremy Holmes, the show's lead producer. "We are honored to share his touching interview in the inaugural episode of Better World Radio."
Additional podcast segments include the Better World Roundup—a recap of positive and uplifting current events—along with updates from TisBest and stories from participants in the TisBest #MyGiftStory holiday contest. Listeners can stream Better World Radio from the TisBest blog, or subscribe in iTunes.
"This is a project we're very excited to offer," says TisBest Executive Director Jon Siegel. "Over the past few years we have expanded our focus from simply being a provider of charity gift cards to sharing our expertise in giving and generosity through unique programs that engage and educate."
In 2013 TisBest released two new charity gift programs that encourage what the organization calls "democratized philanthropy". The first new program, ExpoGiving, allows trade show exhibit attendees to direct a charitable donation to a cause they care about using TisBest's tablet-friendly giving portal. Booth hosts award visitors with a charity gift card or code worth a portion of a larger charitable donation made by the business. Rather than receiving traditional tchotchkes, visitors engage in a feel-good experience that establishes an authentic personal connection within the otherwise anonymous expo environment. The second new program, DiscoverGiving, was launched that same year, and introduces elementary students to the experience of making a difference using pre-paid TisBest Charity Gift Cards as part of a research-based curriculum focused on generosity and altruism. These programs encourage every individual to become a philanthropist, participating in giving using gift dollars.
"Through DiscoverGiving and ExpoGiving we have been able to reach and engage new populations of budding philanthropists," says Siegel. "We have expanded our education and outreach even further this year, first with our Science of Giving blog series and now with Better World Radio."
More information about these and other TisBest programs can be found on the TisBest blog.
Related links:
http://bit.ly/BetterWorldRadio
https://www.tisbest.org/blog/
About TisBest Philanthropy:
TisBest Philanthropy is a 501(c)(3) nonprofit organization dedicated to fostering the growth of non-material gift-giving. TisBest created charity gift cards in 2007. Charity gift cards work like conventional gift cards, but with one important exception: the recipient of a charity gift card "spends" it by choosing a charity to receive the funds.
With a TisBest Charity Gift Card, you make the donation and your recipient decides how to spend the donation, choosing from TisBest's 300+ charity partners.TisBest cards are customizable at no additional cost, and have become increasingly popular as consumer and business gifts. Learn more at http://www.tisbest.org.