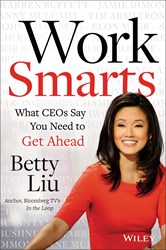 I interview people for a living who are at the top of their careers: CEOs, economists, policy thinkers, entrepreneurs. Inevitably, I began to wonder, how did they get there?
Hoboken, NJ (PRWEB) January 07, 2014
Jobs remain the biggest concern among Americans. With a national unemployment rate of 7% and a country with graduating classes of young adults facing the toughest jobs market in half a century, Americans are confronted with a host of questions about their future. That's where Betty Liu steps in. Liu is famous the world over for asking the tough questions of today's most successful people—and for her uncanny ability to get straight answers where others have failed. As an award-winning financial journalist and Bloomberg Television anchor, Liu has sat down with billionaires, CEOs, politicians, and celebrities to get their views from the top.
In her new book, "Work Smarts: What CEOs Say You Need To Know to Get Ahead" (WILEY; December 2013; Hardcover & e-book; ISBN: 978-1-118-74467-3; $27.95), Liu gathers some of the smartest advice from the world's top business leaders. Packed with exclusive insights from Warren Buffett, Jamie Dimon, Elon Musk, John Chambers, Sam Zell, Tim Armstrong, Susan Lyne, and many others, "Work Smarts" shares their wisdom and solid advice – along with Liu's own personal stories – on what it takes to succeed in today's jobs market.
"Whether you're just starting out in your career, bouncing back from a setback, angling to move up to the C-suite, or thinking about striking out on your own to pursue your dream, you need real advice 'from the street,' so to speak," says Liu. "I interview people for a living who are at the top of their careers: CEOs, economists, policy thinkers, entrepreneurs. Inevitably, I began to wonder, how did they get there? Why can't we get beyond the follow-your-passion advice and really find out what it takes to forge a career that maximizes all your interests and skill. What holds people back? What get them ahead? I can definitely tell you - it's not luck."
Packed with candid, often humorous, revelations from leaders in the world of finance, technology, retail, telecom, entertainment, and more, Work Smarts delivers priceless guidance on:

How to think like a billionaire
Biggest mistakes people make when negotiating anything (raise, promotion, job)
Why listening is THE essential skill successful people – like CEOs – perfect
How to bounce back from a firing
The things people do that hold them back (including overachievers)
Overcoming fear
Balancing kids and career
Being a standout job candidate
Why sometimes being good at your job just isn't enough
Liu adds, "It used to be that people received wisdom from their elders and that wisdom worked well in advancing oneself in a largely uniform society. But times have changed and it begs the question: how do you relate to and advance in a workplace that's made up of so many different people and so many different values? Are there certain ways of doing business that are uniform throughout? I ask questions of those who've been there and succeeded to give readers the best opportunity at job success."
About the author
Betty Liu is Editor-at-Large for Bloomberg Television and the host of "In the Loop with Betty Liu," a daily morning program providing the most comprehensive coverage of the headlines and major events set to shape the business day ahead. She also hosts "In the Loop At the Half with Betty Liu" on Bloomberg Radio, airing weekdays at noon, and is an ABC News contributor. An award-winning business journalist, Betty regularly interviews influential business, political, and media leaders such as Warren Buffett, Carlos Slim, Lloyd Blankfein, Les Moonves, Indra Nooyi, and many others. Before joining Bloomberg Television, Betty was an anchor for CNBC Asia, based in Hong Kong. Prior to that, she was the Atlanta-based correspondent for the Financial Times. Earlier in her career, Betty was the Taiwan bureau chief for Dow Jones Newswires—the youngest ever in Asia—and a Hong Kong–based regional correspondent for the newswire. Betty is also coauthor of "Age Smart: Discovering the Fountain of Youth at Midlife and Beyond," published in 2006. For more information on Betty, go to http://www.betty-liu.com.