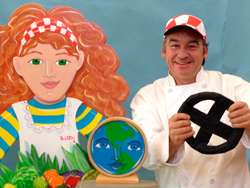 This is about fighting childhood obesity and empowering our kids to make better food choices. - Laurie Pincus, "Betty Spaghetti" Creator
Santa Barbara, CA (PRWEB) October 03, 2013
The timer is ticking on Betty Spaghetti's Flying Food Adventure Show's Kickstarter crowdfunding campaign. With only seven days left, the creators and producers are putting their mixer on high speed to raise the final $19,000 needed on their $40,000 campaign.
Betty Spaghetti's Flying Food Adventure Show, a children's TV show that inspires, entertains and empowers children and families to create healthy eating habits, has crafted the perfect recipe for success:
Ingredients include:
1. One tablespoon of animated characters by children's TV show/multimedia artist Laurie Pincus;
2. A dash of Kids TV know-how by Twila Liggett, the famed Creator/Executive Producer of the Emmy award-winning TV series "Reading Rainbow"; and,
3. A pinch of live action talents by drama teacher and actor Eric Haessler.
These are mixed with actual food excursions; cooking on "Kitchen Island"; live and animated characters; and storylines that teach ("not preach"). Then they're scooped onto a tablet or TV for 30 minutes of food fun... and shazam! Kids and their parents are gobbling up fun food facts that will empower them to make lifelong healthy food choices.
USA Today's Whitney Matheson endorsed Betty Spaghetti's Kickstarter campaign by naming it as a project "that may be worth the time and money" in her September 12, 2013 blog about crowdfunding picks.
"We launched a $40,000 Kickstarter campaign to fund a sizzle reel that will attract corporate and foundation sponsors," said Pincus. "A sizzle reel is essential today for launching a project." A sizzle reel is a short video that promotes a concept or idea to prospective sponsors and funders to give them a "taste" of what a project is going to look like.
When asked if she thinks they'll successfully raise the remaining $19,000, Pincus said, "We are doing everything we can to have friends, friends of friends, and foundations hear about and support this important and entertaining project. Our goal is to be like 'Reading Rainbow', which was all about fighting childhood illiteracy. This isn't just some big creative idea that we have. This is about fighting childhood obesity and empowering our kids to make better food choices."
According to the Centers for Disease Control and Prevention, "childhood obesity has more than doubled in children and tripled in adolescents in the past 30 years. In 2010, more than one-third of children and adolescents were overweight or obese."
Obesity often causes immediate health effects such as pre-diabetes, cardiovascular disease, bone and joint problems, sleep apnea and poor self-esteem. The CDC also states that one of the key ways to fight obesity is by teaching healthy lifestyle habits.
Television and animation are nothing new to Pincus and her business partner Liggett. Multiple Emmy award-winning Liggett garnered international attention with her creation of the PBS show "Reading Rainbow" from 1990-2005. Pincus' father, Irving, was an inaugural children's TV show producer. He produced Mr. Imagination (1950) and created and produced The Real McCoys (1956-1963).
Plans for Betty Spaghetti include 30-minute episodes that combine live action and animation. Each episode will spotlight a "Blue Plate Special", a food ingredient as its theme. Hosts Betty and her Uncle Eddie Spaghetti will travel in their flying food truck in search of exciting food adventures.
Plans for the show include a focus on diversity. The flying food truck will take viewers around the world and introduce them to other cultures through food.
Betty Spaghetti's whimsical humor, informative content, and original music entertains and inspires children and their families to practice healthy eating habits. Most of all, Betty Spaghetti and Uncle Eddie empower families by educating them on how easy it is to adopt a healthy eating lifestyle.
The Orfalea Foundation of Santa Barbara (Founders of Kinko's) already has shown their support of this project by donating to Betty Spaghetti's nonprofit arm, FlickerLab's Climate Cartoons.
Learning about food and good eating will be a cornucopia of fun for children and families with the Betty Spaghetti Flying Food Adventure Show. Click Betty Spaghetti's Flying Food Adventure Show to donate to the campaign.
For more information, contact Betty Spaghetti Flying Food Adventures at bettyspaghettishow(dot)com, email at info(at)bettyspaghettishow(dot)com, or call 805-705-9894, Pacific Standard Time.
Based in Santa Barbara, "Innovative Creative Content: What Makes You Different Connects Us All" is a Content Marketing Firm focusing on successful client branding and global marketing through targeted content and storytelling campaigns. For more information, visit their website at http://www.innovativecreative.co or contact them directly at email (at) innovativecreative (dot) co.