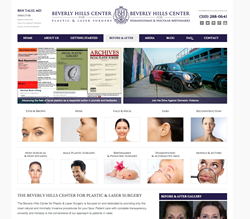 I am proud to offer such a preferred lip lifting solution to patients, helping them achieve balanced, youthful and sensual lips without the need for routine fillers or unsightly surgical scarring, says Dr. Ben Talei
Beverly Hills, CA (PRWEB) October 06, 2016
Dr. Ben Talei of The Beverly Hills Center for Plastic & Laser Surgery is a leading double-board certified facial plastic surgeon who is known for his dedication to use the most natural and minimally invasive techniques possible to achieve exceptional results in facial plastic surgery. He has recently pioneered a new lip lifting technique that goes beyond the limits of facial fillers yet offers faster healing and better results than past surgical methods.
Dr. Talei's Modified Lip Lift technique eliminates the concerns and drawbacks of traditional lip lift procedures, which primarily includes unsightly scarring for patients. This breakthrough lip lift technique is considered a painless procedure with virtually no scarring, which greatly reduces patient recovery time. In fact, most patients undergo the Modified Lip Lift procedure awake or just under twilight anesthesia.
In general, a lip lift is designed to restore sensuality, youth and balance to the lips and face. A lip lift can be used on older and young patients alike. While past lip lifting procedures, such as the classic Bull's Horn or Gullwing Lip lift, attempted to correct common concerns of the lips, they often produced scarring and other complications. The Modified Upper Lip Lift is a newer procedure that Dr. Talei pioneered in order to address these issues. As the one of the only Lip Lift Revision Specialists in the country, Dr. Talei was well aware of the subtle modifications that were necessary in order to improve the lip lift procedure.
In the Modified Lip Lift, the incisions are well hidden under the base of the nose in a natural crease. The modifications in flap elevation and tension-free skin closure allow quick healing, rapid disappearance of incision sites, and avoidance of nostril widening typically seen with other lifts. The Modified Lip Lift enhances the features of the mouth while also restoring balance to the face. It gives the upper lip a lighter and more defined appearance with greater volume and tooth show. The Modified Lip Lift also improves lost lip volume as well as lipstick bleed lines and wrinkles. Dr. Talei routinely performs this newer lip lift technique on patients across the United States, including active models and actors.
"I am proud to offer such a preferred lip lifting solution to patients, helping them achieve balanced, youthful and sensual lips without the need for routine fillers or unsightly surgical scarring," says Dr. Ben Talei of The Beverly Hills Center for Plastic & Laser Surgery.
Dr. Ben Talei's plastic and reconstructive surgery practice in Beverly Hills offers a full menu of facial plastic surgery procedures and treatments including advanced facelift procedures, rhinoplasty, eyebrow lifts, non-surgical skin rejuvenation and more.
About Dr. Ben Talei:
A native of California, Dr. Benjamin Talei graduated from the University of California, Los Angeles with a degree in Physiological Sciences. He received his medical degree at the University of California, San Diego School of Medicine. Dr. Talei then went on to complete his residency training in Head and Neck Surgery at Columbia University and Cornell University Medical Centers, New York Presbyterian Hospital. Following his residency program, Dr. Talei became one of the only surgeons in the country to complete two separate fellowships in Facial & Plastic and Reconstructive Surgery including a fellowship at the Vascular Birthmark Institute of New York. In addition, Dr. Talei is a respected author, speaker and humanitarian.
If you would like to get more information about Dr. Ben Talei or his plastic and reconstructive surgery centers, please visit their website at beverlyhillscenter.com or call (310) 288-0641.
Prepared by Find Local Company