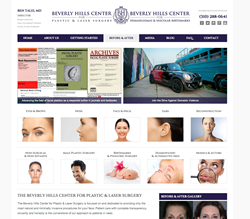 As a facial and plastic reconstruction surgeon, domestic violence is a cause that is very near and dear to my heart as I see and treat its disastrous effects everyday.
Los Angeles, CA (PRWEB) October 14, 2014
Dr. Ben Talei is pleased to announce the opening of two new plastic and reconstructive surgery practices in Beverly Hills, California: The Beverly Hills Center for Plastic & Laser Surgery and the Beverly Hills Center for Hemangiomas & Vascular Birthmarks. Both are located at 120 Spalding Drive in the center of Beverly Hills and feature on-site surgery centers.
The Beverly Hills Center for Plastic & Laser Surgery specializes in facial plastic surgery and is dedicated to using the most natural and minimally invasive techniques possible to achieve exceptional results. Dr. Ben Talei is a respected author, teacher and surgeon specializing in the field of facial cosmetic and reconstructive surgery. His new center in Beverly Hills offers a full range of facial plastic surgery procedures and treatments including facelifting procedures, rhinoplasty, eyebrow lifts, laser skin rejuvenating and tightening treatments and more.
The Beverly Hills Center for Hemangiomas & Vascular Birthmarks caters to patients with rare and debilitating vascular birthmarks and pediatric patients. It is one of few centers in the United States that deals with vascular and congenital anomalies that are rare and difficult to treat. Most of these lesions are benign in nature but can grow to be very debilitating and there are few surgeons trained to deal with the variety of problems encountered with these disorders. Dr. Talei has dual fellowship training in Facial Cosmetic and Reconstructive Surgery, Vascular Birthmarks and Congenital Anomalies with Laser surgery. His center utilizes the most advanced surgical, medical and laser treatments in order to maximize the most optimal therapeutic outcomes for his patients. Although rare in other practices, he commonly treats disorders such as hemangiomas, port wine stains, vascular malformations, venous malformations, microtia, cleft lips and cleft palates.
In addition to his surgical expertise, Dr. Talei is a well-known and active humanitarian. He has been featured on FOX News and NBC for his humanitarian efforts which include innovative methods of fundraising for domestic violence and traveling to 3rd world countries to help children in need. Currently, Dr. Talei and his brother, Nathan, are engaged in a cross country marathon to raise support, awareness, and funds for the National Coalition for Against Domestic Violence and Face-to-Face organizations, both for which he is intimately associated with. This campaign involves driving through 22 states from New York to Miami and then from Miami to Los Angeles in a Mini Cooper S that was designed by Dr. Talei and is now outfitted especially for the occasion. The brothers have already reached their goal of $15,000 and now intend to double it. More important than the money raised however is spreading awareness of these organizations across the United States.
The drive began with a send off party sponsored by Beautique Restaurant in Manhattan and has many creative events planned along the way. The drive will end with an arrival benefit hosted by the W Hotel in Hollywood, CA with proceeds from tickets going to the two charities. Dr. Talei is even giving away raffle tickets for free Botox and Juvederm to the guests as a part of his continuing donation to the charities. Car clubs across the country, including Mini Cooper clubs have shown intense support for the cause. What's more interesting is that Dr. Talei has also tried to spread awareness by making various videos to publicize the drive and denounce domestic violence. He has even produced a digital short with Reggae Stars RSNY who have supported the charity since its inception.
When asked about this campaign, Dr. Talei had this to say, "My brother Nathan and I are thrilled to be part of such a unique and dynamic campaign and to raise money and awareness for these amazing organizations. As a facial and plastic reconstruction surgeon, domestic violence is a cause that is very near and dear to my heart as I see and treat its disastrous effects everyday. We hope that this campaign will serve to raise awareness and funds and to bring hope to domestic violence survivors throughout the United States. They will know that a support system exists and is easy to enter into. Hopefully this will not only help the parents, but their children too which is the only way to truly stop the cycle of domestic abuse."
About Dr. Ben Talei:
A native of California, Dr. Benjamin (Ben) Talei graduated from the University of California, Los Angeles with a degree in Physiological Sciences. He then received a medical degree at the University of California, San Diego School of Medicine. After receiving his medical degree, he completed his residency training in Head and Neck Surgery at Columbia University and Cornell University Medical Centers, New York Presbyterian Hospital. Following his residency training, Dr. Talei became one of the only surgeons in the country to complete two separate fellowships in Facial & Plastic and Reconstructive Surgery including a fellowship at the Vascular Birthmark Institute of New York. In addition, he is an avid author, speaker and humanitarian.
After opening a practice in New York, Dr. Talei has decided to move his clinical practice to the two new centers in Beverly Hills. If you would like to get more information about Dr. Ben Talei or his plastic and reconstructive surgery centers, please visit their website at http://www.beverlyhillscenter.com.