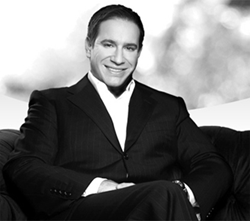 Beverly Hills, CA (PRWEB) February 19, 2015
Beverly Hills dental implants expert, Dr. Kevin Sands, is now offering new treatment options to prevent tooth loss-related sagging. When a tooth is lost, the alveolar bone begins to dissolve. Over time, the bone loss can be significant, which can cause facial features to change. Skin can sag, and wrinkles can develop. This can increase the appearance of aging and can significantly change the way a person looks. Dental implants can keep the jawbone strong and prevent sagging and collapsing facial features.
Mini dental implants are often used when a patient has lost all of his or her teeth. Mini implants are smaller than other types of implants and are a great option for those who have already experienced some bone loss or who have smaller jawbones naturally. These implants can be inserted at an angle to maximize contact between the titanium of the implant and the bone tissue. They can then be used to support a denture for a more secure, healthier solution that preserves the most bone tissue possible. A single dental implant may be a better option for patients who are missing a single tooth. Single implants are used when just one tooth is missing.
The cost of dental implants may be covered by insurance and may be eligible for financing, and it can include:

The number of implants
The types of restorations used
Any additional treatments that are needed
Dr. Sands offers personalized service to each of his patients. "A smile is a great confidence builder," he says and adds of his dental care philosophy, "The quality you get is of excellence." He is known for the beautiful smiles he creates and the high level of satisfaction among his patients.
About Dr. Sands
A well-known and prestigious Beverly Hills dental implants expert has worked with some of Beverly Hill's top celebrities and has been featured in magazines and TV makeover programs. After graduating from USC's School of Dentistry, Dr. Sands continued his studies at the Las Vegas Institute, where he focused on aesthetic dentistry. Today, Dr. Sands is a member of the American Dental Association, the California State Dental Association and the American Academy of Cosmetic Dentistry.