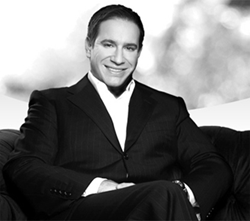 Beverly Hills, CA (PRWEB) January 05, 2015
Beverly Hills dental implants expert, Dr. Kevin Sands, is now offering a holiday special on dental implants. Many people want to look and feel their best during the holiday season whether they are spending time with loved ones or having a reunion with long-lost friends. Missing teeth can undermine their efforts and leave them feeling self-conscious, frustrated, and embarrassed about their smiles. Dental implants may just be the best way to replace these missing teeth.
About Dr. Kevin Sands
Dr. Sands is a renowned Beverly Hills dental implants expert. His goal is to "create a smile to reflect who you really are." He attended USC's School of Dentistry and continued his advanced training in cosmetic dentistry at the Las Vegas Institute for Advanced Anterior Aesthetic Dentistry. He is currently a member of the California State Dental Association, the American Academy of Cosmetic Dentistry, and the American Dental Association.
Several treatment options are available for those who are candidates for implants, including:

Mini dental implants, which are used to support dentures and require less bone structure to support them
Single dental implants, which can be used to replace one or several teeth
Full mouth dental implants, which can be used when no natural teeth remain
The implants are titanium rods or screws that are designed to become a part of the jawbone as an artificial tooth root. Although a single implant can be used with a porcelain crown, implants may also be placed at strategic points around the mouth to support dentures. The benefits of dental implants are extensive and include greater comfort, better functionality, aesthetics, and permanence. Those who are interested in the holiday special can call Dr. Sands' office to learn more about the promotion and the cost of dental implants.
Dr. Sands' office is designed with patient comfort in mind and includes not only state-of-the-art equipment but also amenities designed to give patients a spa-like experience. In-office massage therapy, heated neck pillows, music, movies, and refreshments can all put nervous patients at ease and ensure a positive experience. "Think of us as the Rolls Royce of cosmetic dentistry. The quality my patients get is of excellence," says Dr. Sands.