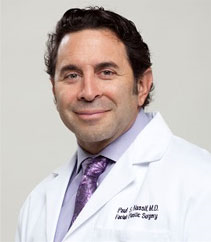 Beverly Hills, CA (PRWEB) June 09, 2015
Beverly Hills facial plastic surgeon, Dr. Paul Nassif, is now offering various new procedures to improve facial appearance. People who are suffering from insecurity and a lack of self-esteem due to facial imperfections are eligible to undergo plastic surgery as a solution. Eyelid surgery is on the rise as patients are experiencing major improvements through the rejuvenation against age signs. Dr. Nassif offers new procedures, such as laser eyelid surgery, endotine and lateral brow lift, laser facelift surgery, liquid facelift surgery, and non-surgical rhinoplasty.
"Drooping eyelids are one of the hardest imperfections for a person to hide from plain sight. This is why we encourage a more permanent solution over the option of makeup and other techniques that simply do not work," the Beverly Hills double eyelid revision surgery expert said. "Our goal is to give all patients a new outlook on their appearance once they experience the benefits of eyelid surgery and other techniques we offer."
Imperfections that upper eyelid lift surgery will eliminate include:

Crow's feet
Drooping Lids
Lack of eye definition
Asymmetry
"In addition to rejuvenations, we also specialize in revision for patients that were unfortunate enough to experience an unsatisfactory procedure before visiting our office," Dr. Nassif said.
The average upper eyelid surgery cost works out to a valuable solution when compared to years of purchasing expensive night creams and cosmetics for a temporary improvement. At the end of the day, patients are not left hiding their face because the results last for many years without requiring any maintenance treatments.
A brow lift, full facelift, cheek augmentation, and lip implants are additional facial procedures that help a person experience a self-esteem boost. Any patient that wants a full makeover has the best solution when combining facial techniques into one single surgery. Not only does this offer a valuable savings on the price of certain individual fees, it makes the recovery process easier. Healing for months after each rejuvenation technique is condensed to one period recovering from each technique at the same time. People that are unable to regularly schedule time away from work experience the most advantage in this situation. Working with this surgeon to improve any facial imperfection is an opportunity to restore confidence and feel completely rejuvenated.