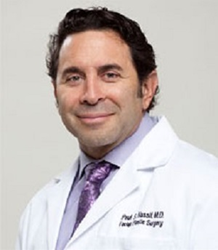 Beverly Hills, CA (PRWEB) June 10, 2016
Dr. Paul Nassif, a renowned provider of celebrity nose jobs, announces that he is now offering facial makeovers. For patients interested in a comprehensive approach to facial rejuvenation, facial makeovers offer an integrated, efficient option. Each makeover is customized to the needs of the individual, with procedures chosen based on unique needs and goals. This combination of treatments can be ideal in cases where patients have multiple cosmetic facial flaws due to aging, accidents, birth defects, or other causes. The entire face, extending from the forehead down to the neck, can be improved this way.
Several treatments can be included in a facial makeover. Rhinoplasty, also known as a nose job, is one of the most common and can be used to eliminate birth defects, a deviated septum, and other nose flaws. Brow lift is often used to eliminate frown lines and horizontal creases from the forehead. Neck lift, also called lower rhytidectomy, can rid the neck of fatty deposits and loose skin, which are commonly associated with aging. Fillers, which can be used to bolster the lips, cheeks, chin, and other areas, can also be included in a facial makeover. Eyelid surgery can be ordered to remove bagginess or excess skin from the eyelids. By ordering these treatments together, patients may have an easier time budgeting for their improvements instead of considering, for example, eyelid surgery cost separately.
The price of a facial makeover, like the makeover itself, can vary significantly with the individual. Brow lift, rhinoplasty, neck lift, and lip augmentation cost different amounts, and patients differ in which procedures they need. Moreover, the extent of treatment patients need will affect the complexity of treatment, and therefore affect the price, as well. The outcome of an exam gives patients an idea of how much their facial makeover will cost.
Dr. Paul Nassif, eyelid surgery doctor in Beverly Hills, is a noted plastic surgeon with training and experience in facial and reconstructive surgery. A specialist in revision rhinoplasty and an expert at personalizing plastic surgery to ethnicity, Dr. Nassif has been featured several times by major media outlets. Dr. Nassif is a member of numerous professional organizations and provides services through several charities.