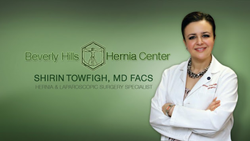 Los Angeles, CA (PRWEB) March 07, 2016
According to an article published February 24th on the Daily Mail, British singer and model Jenny Frost has undergone hernia repair surgery after having delayed it due to pregnancy. She released this information in the form of a hospital selfie, noting that the condition was the result of past pregnancy problems. Commenting on this article, hernia expert and surgeon Dr. Shirin Towfigh of the Beverly Hills Hernia Center states that Ms. Frost's situation is far from unusual, and that she is anything but unique in developing a hernia during pregnancy.
A great many women and even doctors can benefit from looking into Ms. Frost's story, as it sheds light on the issues pregnant women and others at risk for hernias may face, Dr. Towfigh notes. Dr. Towfigh explains that, pregnancy adds quite a bit of stress on the abdominal wall and pelvic floor. This is mostly during the final trimester. Also, the effects on the abdominal wall and pelvic floor, such as development of belly button (umbilical) or groin (inguinal) hernias, are seen after second and third pregnancies.
As a woman who has treated many women, including those who are pregnant or expecting not unlike ex-Atomic Kitten member Jenny Frost, Dr. Shirin Towfigh is a leading surgical expert on hernias in women as well as in men. She has a special interest in hernias among women. This includes those who are pregnant or postpartum and suffer from a hernia.
"First, there is no need to panic," says Dr. Towfigh. "It is very rare for hernias to cause a surgical emergency during the pregnancy." Dr. Towfigh. She further urges that pregnant women take steps to help prevent hernias during their pregnancy. She provides her patients with education and exercise regimens to reduce their risk for hernias and diastasis recti. If they do have hernias, Dr. Towfigh provides a wide range of surgical options. The good news, Dr. Towfigh notes, is that hernia treatment and repair has become quicker and more efficient than ever, thanks to exciting medical and technological developments. Surgical methods include innovations such as laparoscopy and the Da Vinci robotic system, which provides patients with more precise control and are therefore the minimally invasive options available, she notes. What's more, because these systems use the smallest possible incisions, discomfort as well as recovery time are significantly reduced, so patients can return to their normal routine that much sooner.
Dr. Towfigh is highly recognized for her ability to deal with hernias, their diagnosis, and repair in the most effective way possible. For more information about the work she performs at the Beverly Hills Hernia Center, or to schedule a consultation, interested readers may call the center at (310) 358-5020, or visit the practice online at http://www.BeverlyHillsHerniaCenter.com.