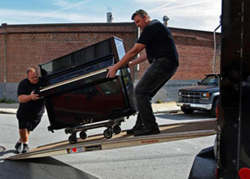 (PRWEB) November 25, 2013
Melrose Moving Company has released a blog explaining how to properly move a piano in Beverly Hills!
Pianos are heavy but at the same time fragile objects which can be easily damaged, even by a small bump. Clients have to take all the precaution methods necessary in order to ensure the safety of their musical instruments. Piano need to be packed, loaded and transported in an appropriate manner.
Melrose Moving offers several tips on its blog which clients should follow. Packing a piano is not an easy task and advice from professional movers is always welcomed and should be taken into account.
Pianos are best packed in their own cask. If this is missing, wrapping materials should be used in plenty quantity to ensure the safety of the instrument. Recommended wrapping materials include: shrink wrap for protecting against dust, bubble wrap and blankets for protection against bumps and scratches.
It is also essential to have a furniture dolly capable to carry the whole weight of the musical instrument. The heavy duty straps should be used to tie the piano to the dolly and extra padding materials should be added in order to protect the piano from road bumps or mishandling.
Working alone is not recommended. Pianos are heavy and it is very difficult to load one in the vehicle without any help. The best assistance comes from professional movers who have plenty of experience and use professional moving tools.
"Pianos require a lot of hard work to pack and relocate! Clients should call moving companies in Beverly Hills for assistance and enjoy a pleasant relocation at affordable prices!" said Russell Rabichev, Marketing Director for Melrose Moving.
Melrose Moving Company is a Los Angeles-based residential and commercial moving company. Originally established in 1999, and has been so popular that the owner started various other moving companies, such as 1 Los Angeles Movers, Movers Los Angeles, and Los Angeles Commercial Movers, all of which are operated by Melrose Moving. The moving company is licensed by the Public Utility Commission (PUC), and has an A rating with the Better Business Bureau (BBB). Melrose Moving accepts cash, checks, credit cards, and Paypal.
For more information, click on http://www.melrosemoving.us. Call now: 1.800.431.3920.