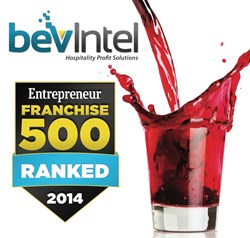 The Bevintel franchise opportunity has never been so attractive, we now have a custom solution for every bar in any market.
Louisville, KY (PRWEB) January 14, 2014
Entrepreneur Magazine named Bevintel as one of the top 200 franchises in the world, ranked #129 overall. This is Bevintel's seventh consecutive year being recognized in this notable ranking, moving up an impressive 154 spots from the previous year. The announcement was made this month as part of the their annual Franchise 500®, the world's first, best and most comprehensive franchise ranking. The full detailed franchise list can be found in the magazine's most anticipated issue released in January 2014.
"Experiencing such significant improvement in our ranking from last year is a true testament to how much we've invested into our business and our franchisees over the past year and we are extremely proud of this accomplishment," says Vanessa De Caria, COO of Bevintel.
Every year, Entrepreneur Magazine thoroughly ranks all 500 companies using an exclusive formula. All qualifying companies, regardless of size, are judged by the same criteria: objective, quantifiable measures of a franchise operation. The most important factors include financial strength and stability, growth rate and size of the system. Entrepreneur also considers the number of years a company has been in business and the length of time it has been franchising, startup costs, litigation, percentage of terminations and whether the company provides financing. An independent CPA analyzes financial data. The objective factors are plugged into their exclusive Franchise 500® formula, with each eligible company receiving a cumulative score. The 500 franchises with the highest cumulative scores become the Franchise 500®. Bevintel was ranked #129 in its seventh consecutive year on this prominent list.
Bevintel, the leading independent profit control and revenue enhancement service franchise for bars and restaurants began recruiting franchisees in the late 80's, and now has over 350 franchise units in over 20 countries. The company continues to widen their product and service offerings and continually strives to increase their network of franchisees.
De Caria adds, "Part of our achievement is due to constantly adding new products and services for our franchisees to offer the food and beverage industry. The Bevintel franchise opportunity has never been so attractive, we now have a custom solution for every bar in any market."
Bevintel is currently accepting qualified candidates for the US, Canadian and International markets. To learn more about franchise opportunities with Bevintel, please visit http://www.bevintel.com
To view Entrepreneur Magazine's Franchise 500® ranking, see the January issue or visit http://www.entrepreneur.com/franchises/rankings/franchise500-115608/2014,-3.html
#####
About Bevintel
Bevintel is the #1 profit management and inventory control franchise for the food and beverage industry. Since 1987, Bevintel franchisees have offered customized comprehensive solutions for beverage service providers through technology, inventory control services, staff education, and business marketing solutions for independent and globally-recognized operations. Bevintel's leading industry products, Bevinco and Bevchek have maximized liquor, beer and wine profits for thousands of bars and restaurants worldwide.