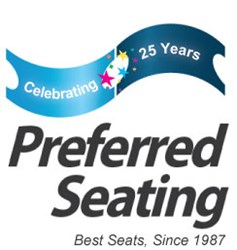 . "In some markets Jay Z ticket prices are holding steady", says Greg Cullen of Preferred Seating. "But in others like San Jose and Denver the best seats are heavily discounted."
Sacramento, CA (PRWEB) November 26, 2013
Jay Z and Beyonce both kick off their individual tours this Saturday and Beyonce tickets are at a premium for her sold out concerts while fans can buy Jay Z tickets for much less than face value for many of the concerts on his upcoming tour from ticket brokers such as PreferredSeat.com. The difference between the two tours is startling when you see just how many tickets for Jay Z remain for the first few shows on the tour and the fact many are discounted as much as 30% or more for the best seats.
Ticket brokers often sell tickets below face value when the market declines and in this case some will be taking a beating from the deep discounts they're giving for Jay Z tickets. "In some markets Jay Z ticket prices are holding steady", says Greg Cullen of Preferred Seating. "But in others like San Jose and Denver the best seats are heavily discounted." Many of the Jay Z concerts have not even sold out but fans can find cheaper tickets running $32 and up through ticket brokers than they'll find at the box office in many cases.
On the other hand Beyonce tickets have been sold out at the box office for months and they're at a premium right now with the cheapest tickets running about $75 and up. This is the second leg of the Mrs. Carter tour that runs through December 22nd with a final concert at Barclays Center in Brooklyn while Jay Z's tour runs through January 31st. The difference in ticket sales could be attributed to the fact that Jay Z toured this past summer with Justin Timberlake and many fans may have already seen him live but Beyonce is returning to some of the same venues she hit earlier in the tour and still selling out the second show.
The good news is for the fans that held off buying tickets for Jay Z because now they may be able to save a few bucks and get into the show for less than face value at many venues. The bad news for Beyonce fans holding out for deals is they may have to wait until a few days before the concerts to see if a deal drops in at the last minute.
About the Author
Greg Cullen is one of the owners of Preferred Seating where fans have been able to buy premium seating for concerts, sports and theater events since 1987. Preferred Seating is a proud member of the Better Business Bureau where they have had an A+ rating since they became members in 1997.