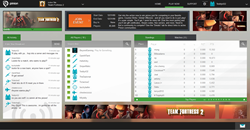 With our partners at Beyond Gaming we'll be the first to bring the tournament experience to community servers – so you'll be collecting points to win great prizes just by playing within your local community. - Karl Flores, Pinion CEO
San Francisco, CA (PRWEB) March 18, 2014
At the Game Developers Conference (GDC) in San Francisco, CA, Pinion Tech and Beyond Gaming announced the new "Pinion Tournament System: Powered By Beyond Gaming" to bring massive esports events and prizes to the PC gaming community.
Launching today, the first events feature popular esports PC games from Valve including Counter-Strike: Global Offensive, Team Fortress 2, and Counter-Strike: Source. Prizes include gift cards, Steam codes, free servers, custom in-game items, and much more. More than 100,000 players have participated in the closed beta.
"The focus of the tournament system is to create a platform that is accessible, fun, and rewarding for ALL gamers regardless of their experience!" says Karl Flores, CEO of Pinion Tech. "With our partners at Beyond Gaming we'll be the first to bring the tournament experience to community servers – so you'll be collecting points to win great prizes just by playing within your local community."
Multiplayer video games are one of the largest sports worldwide with an audience of over 400 million gamers. Esports is rapidly unfolding as the fastest growing spectator sport drawing massive live audiences and millions of online viewers. The video games industry is a $26bn business that rivals the similar spend of fans of traditional sports. The Pinion Tournament System: Powered By Beyond Gaming provides the largest-ever community for massive esports events with millions of gamers competing for prizes.
The competition is free and easy to join. Gamers can visit pinion.beyondgaming.com to access the complete listing of Pinion servers running the Pinion Tournament System: Powered By Beyond Gaming. Players are then able to compete just by playing Counter-Strike and Team Fortress 2, with the collective gaming communities competing in massive esports events around each game. There's no limit to how often players can compete, so get into the games now and claim your prize.
Pinion is the leading provider of hosting and advertising services for PC gamers by providing community owners and publishers with new sources of revenue and player activity. The Pinion Tournament System: Powered By Beyond Gaming is an exclusive addition to Pinion's powerful toolset for PC gaming communities. Beyond Gaming's product will provide Pinion with the ultimate competition platform and white label solution for casual competitions and esports events.
"We're very excited to be providing the platform, technology, and operations for the Pinion Tournament System: Powered By Beyond Gaming," says Beyond Gaming CEO, Blaine Graboyes. "Pinion is the leading community network for PC gamers. Our goal is to provide the ultimate competition platform and to partner with top developers, publishers, and brands to bring esports to everyone."
Advertisers interested in connecting with gamers can leverage the Pinion Tournament System: Powered By Beyond Gaming to deliver targeted messages with content campaigns, videos, and rich media advertising. Pinion and Beyond Gaming have worked with major brands such as Dominos Pizza, Subway, McDonalds, UFC, Microsoft, Philips Norelco, Electronic Arts, and many more.
About Pinion Tech
Pinion is all about helping communities help themselves. We provide community owners or 'publishers' advertising revenue. This revenue can be used to improve infrastructure through the hiring of better servers or the addition of new ones all together. Pinion was founded by gamers who have run communities in the past. We understand that running a successful community is a costly exercise.
About Beyond Gaming
Beyond Gaming has developed the ultimate competition platform for community tournaments and professional esports events with PC, console, and mobile games. Our exclusive "Play For It!" matches allow players to compete in their favorite games and instantly win prizes from top brands. We engage millions of gamers with casual competitions, pro esports events, and live streaming broadcasts featuring the world's most popular video games.
FOR MORE INFORMATION:
Justin Yamek
Beyond Gaming
justin(at)beyondgaming(dot)com
P: 419-466-7916