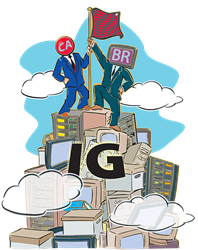 "For the first time, we were able to see and measure an inverse relationship between ingested data volume and the level of effort required to classify and remediate content." Rich E. Davis
Memphis TN (PRWEB) April 17, 2014
John Martin, CEO and founder of BeyondRecognition, LLC ("BR"), a Memphis-based technology company providing information governance technology to Fortune 500 companies, and Rich Davis, a principal and co-founder of Continuum Advisors, LLC, announced today that the two companies have formalized an agreement engaging Continuum to provide core implementation services for BR's IG technology.
Martin noted that, "BR provides a whole new type of functionality for managing enterprise content and it is important for us to partner with consultants who have the experience and the vision to see that our technology is integrated into our clients' existing IT and IG infrastructure seamlessly and flawlessly. The principals at Continuum have demonstrated that vision and expertise in implementing BR at several Fortune 500 companies in the energy and energy services sectors and we look forward to working with them in future relationships."
Davis commented, "Continuum has consulted with several Fortune 500 companies for high-level information governance planning and execution, and when we first saw BR technology, we realized that traditional notions and limitations of big data just went out the window. For the first time, we were able to see and measure an inverse relationship between ingested data volume and the level of effort required to classify and remediate content. Clients who had previously shelved initiatives because of the cost and time involved can now budget and execute with unprecedented velocity and cost effectiveness - and that's why we have made major changes in our business structure to make BR a major focal point of our offerings."
Continuum's co-founder, Rob Miller added, "BR is a radically new, data-driven information governance technology that meets the IG needs of multiple stakeholders in any enterprise, whether public or private. Continuum has implemented BR technology at multiple Fortune 500 clients with measurable precision and accuracy. We chose to align with BR as it is the only technology in the world that automatically classifies electronic files or scanned paper documents based on their visual characteristics – and without front-end loaded document-typing rule writing or exemplar designations. This is tremendously important because accurate, scalable and persistent content classification is the bedrock upon which all IG initiatives are built."
About BeyondRecognition
BeyondRecognition provides enterprise-scale information governance technology to Fortune 500 clients. BR's core technology classifies electronic and scanned paper documents based on their visual similarity. Other components of BR's offerings include zonal attribute extraction, visual deduping, and glyph recognition. BR technology enables content migration, file remediation, and other IG tasks as well as powering document-intensive business processes. BR's clients enjoy rapid project start-up and improved accuracy in coding or extracting document attributes. They also particularly appreciate being able to finish projects in months that had originally been scheduled to take years.
For more information about BR, visit their website at http://www.beyondrecognition.net, or contact Joe Howie, VP, BeyondRecognition Corporate Communications, at jhowie@beyondreognition.net, or 918-894-6943.
You can also follow BR on Twitter @BeyondRecog or join the BeyondRecognition group on LinkedIn at http://www.linkedin.com/company/beyondrecognition.
About Continuum Advisors
Continuum Advisors provides core implementation services for BR. The principals at Continuum have extensive experience at the Fortune 50 level planning and implementing information governance projects and systems. They take a holistic approach so that the needs of all stakeholders are considered and anticipated beforehand instead of optimizing around a set of limited, narrow objectives. The systematic and dynamic view created by assimilating interrelated data points meets the overarching information governance needs of the organization as whole, avoiding incomplete, ambiguous, erroneous or superfluous data points.
For more information about Continuum Advisors, visit their website at http://www.beyondrecognition.net/continuum-advisors, or contact Rich E. Davis at RED@continuum-advisors.com or by phone at 1.646.205.3208.