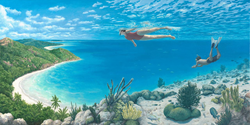 There is no other artist out there that does what Rob Gonsalves does
North Bethesda, MD (PRWEB) September 08, 2014
Washington D.C. Fine Art Gallery, Huckleberry Fine Art Gallery, is pleased to announce the latest work from world-renowned magic realism painter, Rob Gonsalves. Like many of Gonsalves' paintings, "Beyond the Reef", seamlessly morphs reality and an imagined world to create a beautiful work of art.
Rob Gonsalves has been recognized as the most famous living surrealist painter in North America. His latest work, "Beyond the Reef", injects a sense of magic into an otherwise relaxed beach scene. Gonsalves explained his inspiration for the work, "Part of our Caribbean holiday this March involved snorkeling excursions to the coral reef. For me, the most compelling part was launching myself out over the area where the shallows dropped off dramatically. I found myself imagining what kind of landscape might exist far below my range of vision."
In the painting, Rob combined the sensation of flying he felt snorkeling with an imagined underwater world. On the right side of the painting, a male and female can be seen snorkeling underwater from below. The female can be seen swimming near the surface while the male is diving a bit deeper into the water. As the viewer scans the painting from the right the scene changes dramatically. The viewpoint shifts suddenly and the observer is looking down at a beach – presumably the same beach where the two on the right are snorkeling.
"There is no other artist out there that does what Rob Gonsalves does," says Rob's Publisher and Owner of Huckleberry Fine Art, Boots Harris. "It is truly a pleasure to work with Gonsalves and watch him bring his imagination to life." Rob Gonsalves started working and printing with Huckleberry Fine Art over 20 years ago. Gonsalves has released over 70 of his Magically Realistic paintings and sold 33,000 prints to numerous individuals around the world, embassies, corporations and a United States Senator.
"Beyond the Reef", limited edition, signed and other numbered prints are also available at Huckleberry Fine Art. The painting is available on paper, canvas, and sublimated metal in a wide range of sizes and prices.
To order or inquire call (301) 881-5977 or email info(at)huckleberryfineart(dot)com
About Huckleberry Fine Art
As the premier art gallery in the Washington, D.C., metropolitan area, Huckleberry Fine Art specializes in finding emerging artists locally and internationally. Since its existence, the gallery has been exhibiting a vast collection of vibrant oil and acrylic paintings, limited edition signed and numbered prints, sculpture, photography, art books and custom framing. Huckleberry Fine Art has established a successful publishing division with the introduction of artist Rob Gonsalves' limited edition prints. For more information, visit HuckleberryFineArt.com.