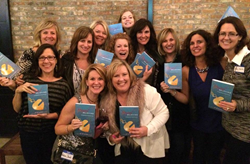 Those who lead by example and demonstrate passion for what they do make it much easier for their followers to do the same.
(PRWEB) October 28, 2014
From a young age, D.D. Marx knew that "social" should have been her middle name. She was the girl on the playground who made matches for all her friends and later parlayed her talent for exuberance and fun into a job at Second City in Chicago as a storyteller. Now, she will be releasing her first fiction book, Beyond Believing, through Next Century Publishing in April 2015. In celebration of this important milestone, D.D. recently hosted a big party for her family and friends at which they were invited to purchase advanced copies of her book.
The party was themed "Untitled Chicago" and centered on the 1920's Prohibition Era in downtown Chicago. Guests sipped signature D.D. Marx cocktails and received a goodie bag full of ddmarx-branded items to enjoy after the party. About 100 people in total attended and each purchased a copy of the book as a "ticket" for admission. Another 500 copies of the book were available for purchase for family and friends who were unable to attend.
Beyond Believing is a fictional work that encompasses the author's love of romance and storytelling. The book began when Marx was asked to write a story of what she would do with superpowers and she immediately thought of visiting with her best friend, who had passed away, one last time. The inspiring and funny tale grew from this exercise is due to be published April 6, 2015, Beyond Believing will be available through Next Century Publishing as well as other online retailers. For more information about the book, see http://ddmarx.com/ddmwp/books/beyond-believing/.
About D.D. Marx
D.D. Marx is a contemporary romantic fiction writer and blogger, as well as a lover of all things social. She is a graduate of the University of Dayton, as well as the Second City program in Chicago. A proud aunt and self-described hopeless romantic, Marx has always had a knack for humorous and engaging storytelling. Her pen name is a dedication to her beloved friend Dan, who continues to guide and inspire her in her daily life.