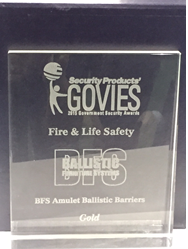 Amulet™ Ballistic Barriers are a major step forward in the protection of human life, says CEO Jeffrey Isquith.
Scottsdale, Ariz. (PRWEB) April 23, 2015
Ballistic Furniture Systems, the premier manufacturer of ballistic barrier protection for the public space, announced that Amulet™ Ballistic Barriers has won Security Products' 2015 Gold Govies Government Security Award in Life and Fire Safety.
Ballistic Furniture Systems was recognized for its breakout new ballistic barrier technology and innovative application to both government and commercial workplaces. Compliant with UL Levels 1-8 and National Institutes of Justice Level III and IIIA, Amulet™ Ballistic Barriers provide immediate protection and security to end users. Whether hidden in furniture, office systems, walls or doors, Amulet™ Ballistic Barriers are scalable, reliable, and compliant for bullet and fire resistance.
"We are proud and honored to be awarded the 2015 Gold Govies Award for our efforts in securing the modern workplace in government, municipal and public areas," said Jeffrey Isquith, CEO of Ballistic Furniture Systems. "With an ever-growing increase in active shooter violence in the US and around the world, Amulet™ Ballistic Barriers are a major step forward in the protection of human life during such tragic events."
The winners were selected by a panel of information security professionals using the following criteria: features, innovation, user friendliness, interoperability, quality, design, market opportunity, impact in the security industry, technical advances and scalability.
The winners were announced in the Security Products' booth at ISC West on April 15 at the Sands Expo in Las Vegas, Nevada.
###
About Security Products
Published by 1105 Media, Inc., Security Products is a leading industry media brand for the global security marketplace, providing new product and technology solutions for security professionals. Its print, digital, event, custom media and research products integrate physical and IT security coverage. For more information, visit http://www.security-today.com.
About Ballistic Furniture Systems
Established in 2011, Ballistic Furniture Systems, Inc. is the pioneering manufacturer of ballistic protection for public spaces. The company offers varying levels of ballistic protection; Amulet I, II, III, as well as 'E' Kits for upfitting existing office systems. All materials are bullet resistant and manufactured in the USA. For more information, please go to http://www.ballisticfurnituresystems.com.