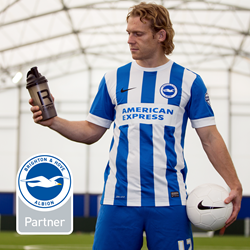 As a manufacturer of the highest quality products it makes sense to partner with an elite sporting institution and with the recent investment in the state of the art facilities we can now work together gaining scientific data on the performance effects of
Brighton (PRWEB UK) 21 October 2014
Woodingdean based Reflex® Nutrition will also sponsor one of the pitches at the American Express Elite football Performance Centre. The company has been manufacturing market leading sports and health products since 1996.
Managing director James Phillips began the company with the aim to produce the finest supplements available and has built a business that has stayed true to this vision for approaching two decades. Now operating from a two-acre site in Woodingdean (The Reflex® Nutrition Science Park) they now employ over 60 people. Phillips said, "Forming a partnership with our local professional club and one as progressive as Brighton & Hove Albion makes sense on every level. As a manufacturer of the highest quality products it makes sense to partner with an elite sporting institution and with the recent investment in the state of the art facilities we can now work together gaining scientific data on the performance effects of the Reflex® range of products"
Brighton & Hove Albion's head of medical services Adam Brett added, "We are delighted to be working with Reflex® Nutrition. Their aim of producing top quality and scientifically designed supplements with the confidence of batch testing safety allows us to optimise player nutritional requirements at an individual level.
"Collaborating with Reflex® from a research perspective further enhances the clubs aspirations of being at the forefront of sports science and medicine, identifying the development of potential progressions in the field of sports nutrition and supplementation."