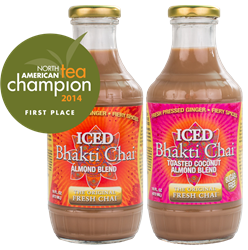 "We wanted to retain the bold flavor of our signature chai while spicing it up with new varieties catering to diverse taste preferences, lifestyles and health goals." ~ Brook Eddy, CEO/Founder Bhakti Chai
Boulder, CO (PRWEB) June 24, 2014
Bhakti Chai, alchemist of Boulder's award-winning freshly micro-brewed chai tea, announces their two new ready-to-drink flavors. Both iced teas are brewed with Unsweetened Almondmilk from Califia Farms® located in Bakersfield, California. The Almond Blend mixes Bhakti Chai's popular Original Concentrate while the Toasted Coconut Almond Blend offers consumers Bhakti's first sugar free ready-to-drink flavor, combining Unsweetened Bhakti Chai Concentrate with a toasted coconut Almondmilk.
Just weeks after landing in natural grocery stores in the Rocky Mountain, Southern California, Southwest, Pacific Northwest and Midwest regions, the Almond Blend received first place in the North American Tea Championship's "Iced Tea" category. This marks the second year in a row one of Bhakti Chai's premium iced chai's have been named a winner, after their Original Blend won 3rd place in the Ready-To-Drink / Black - Sweetened category of the 2013 Iced Tea Class. The North American Tea Championship is the only professional, independent competition that distinguishes the highest quality and best tasting teas commercially available in North America. Each submission is evaluated based on brew color, aroma, flavor, mouth-feel and harmony by a panel of professional cuppers in a blind taste-test.
Bhakti Chai founder and CEO Brook Eddy attributes both the inspiration and success behind the two new blends to the company's commitment to dairy-free and sugar-free consumers. Eddy says, "We wanted to retain the bold flavor of our signature chai while spicing it up with new varieties catering to diverse taste preferences, lifestyles and health goals."
Greg Steltenpohl, CEO of Califia Farms, states "We were thrilled when Bhakti Chai asked us to supply our Almondmilk for their new ready-to-drink blends. Our companies share the same values around sustainability and we both want to make products that our consumers can truly feel good about drinking."
Micro-brewed in Boulder, Colo., all of Bhakti Chai's products are made with fresh-pressed organic ginger, fiery spices, and Certified Fair Trade and Organic black tea. Califia's Almondmilk delivers a high calcium, low-calorie pour for those seeking the flavor of dairy without saturated fat, gluten, soy, lactose, or GMOs.
About Bhakti Chai: An interest in social action and a passion for travel led Bhakti Chai Founder and CEO Brook Eddy to India in 2002 to research a movement based on the principles of Bhakti, or "devotion through social action". In 2006, Bhakti Chai was born with the vision of fusing sustainably sourced ingredients, artisan micro-brewed products and the values of triple bottom line business. This vision continues to permeate their spicy blends and leadership championing female empowerment through charitable contributions and scholarships, blending beverages into a crusade for a better world. Bhakti Chai concentrates and ready-to-drink chai are available at Whole Foods Markets, natural and independent markets, and cafés around the country. Bhakti Chai is a certified B-Corporation and all products are Fair Trade Certified as well as verified non-GMO.
About Califia Farms: Califia Farms (Califia, pronounced like California) was founded in 2010 to share more of California's natural bounty. Headed by beverage visionary and Odwalla founder Greg Steltenpohl, the company produces all of its products locally in California. Califia Farms' plant is eco-friendly, energy efficient, clean-water responsible and repurposes more than 90 percent of its post-production byproduct. Spanish conquistadors believed they had discovered Califia's bountiful island when they first explored California.