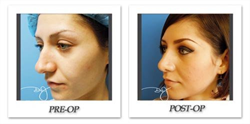 :…These younger individuals are simply seeking out similar ways to improve their appearance with procedures that are both safe and effective
Los Angeles, CA (PRWEB) February 09, 2016
According to a recent article published January 28th on Daily News, plastic surgeons are witnessing a dramatic increase in the number of patients under the age of 30. According to Southern California based medical center, Beverly Hills Physicians (BHP), this reflects what they are seeing in their offices, and may indicate an overall shift in the rapidly growing social acceptance of cosmetic surgery procedures. BHP notes that, while some of the well-known reasons older people choose plastic surgery is to bring about a more youthful appearance, and to remain competitive in the workplace, these younger individuals are simply seeking out ways to improve their appearance with procedures that are both safe and effective. Beverly Hills Physicians explains some of the most common procedures among this increasingly crucial age group:
Breast Augmentation and Reduction – Many women, including many younger patients, report dissatisfaction with the size, weight, and shape of their breasts, explains BHP. For them in particular, breast augmentation procedures can improve self-image, which in turn boosts self-confidence and feelings of satisfaction and attractiveness. Additionally, many factors play a role in the decision to undergo such a procedure. Many patients simply feel their breasts are too small; while others choose to correct breast symmetry, contour, or even undergo reconstruction following trauma.
Breast Reduction - While breast augmentation is the most sought-after form of cosmetic surgery, breast reduction can help reduce the size of the breasts in order to make them more proportional to body size, BHP explains. In patients both young and older, breasts that are deemed too large can cause pain and discomfort in the back, neck, and shoulders, as well as attract unwanted attention. Altogether, the primary goal of the procedure is to ensure comfort and bring about renewed self-esteem to the patient.
Rhinoplasty – More commonly referred to as a "nose job," rhinoplasties offer cosmetic and occasionally healthful benefits for patients of all ages, notes BHP. Because the nose is generally the focal point of a person's face, many people may find that a relatively minor change can make an enormous difference. Fortunately, BHP notes, while rhinoplasties are occasionally complex procedures, some of them may be carried out non-surgically, in which the shape of the nose is dramatically changed with injections. Additionally, for patients with sinus issues, rhinoplasties can literally offer a breath of fresh air in the lives of those affected.
These are just a few of the great many cosmetic surgery procedures performed at Beverly Hills Physicians each year. For additional information, prospective patients can call Beverly Hills Physicians at (800) 788-1416. They can also visit BHP online at http://www.BeverlyHillsPhysicians.com.